IDFR New Year Address And Barbecue Luncheon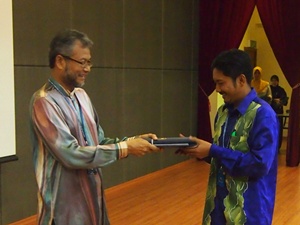 In ushering the New Year 2012, the Institute of Diplomacy and Foreign Relations (IDFR) celebrated the auspicious occasion with a New Year address by YBhg. Dato' Ku Jaafar Ku Shaari, Director General of IDFR on 12 January 2012 to inspire a prime start for another promising twelve upcoming months. This was followed by a Barbecue luncheon concocted by IDFR's many talented "chefs" highlighting Middle Eastern recipe of 'Nasi Arab' and sumptuous selection of poultry and seafood.

YBhg. Dato' Ku Jaafar Ku Shaari expressed his appreciation and gratitude to all staff for the continued commitment in bringing IDFR to what it is today and for elevating IDFR's name which is now becoming more visible in the international arena for offering training and research in the fields of diplomacy and international relations. YBhg. Dato' also remarked on all the training programmes, language classes as well as numerous public lectures and discourses throughout 2011 and congratulated everyone for the coordinated efforts and arduous work in realising all the projects and events.

He also encouraged all officers and staff to fully utilise CLIK, the latest system developed by IDFR which would form a comprehensive flow of communication and monitoring of portfolios of staff as well as for speedy feedback and reporting to the management. CLIK is seen as a breakthrough for IDFR in order to connect and stay at par with the rest of the world. YBhg. Dato' concluded his address by emphasising on the core values of IDFR, 'A.Z.A.N' (Adherence, Zeal, Ability and Nobleness) and reminding all to apply the principle, "hands on, minds on, hearts on".


The highlight of the event was the presentation of a scroll containing the 2012 New Year Message and 2012 calendar to each staff by YBhg. Dato'.

The delectable Barbecue feast ended the event with everyone beaming and leaving the hall with renewed, aspired spirit and determination to ensure IDFR climbs a higher ladder in the international relations and foreign affairs' training world.