Wisma Putra Monthly Assembly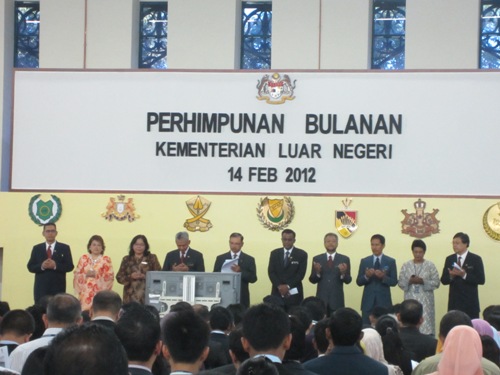 The first monthly assembly at Wisma Putra for 2012 was held on 14 February 2012 at the Multipurpose Hall, attended by senior officers, heads of departments and agencies, officers as well as staff. The assembly commenced with a doa recital, reading of the Ministry's vow, followed by singing of Ministry's song and message by YBhg. Tan Sri Mohd Radzi Abdul Rahman, Secretary General of Wisma Putra.
YBhg. Tan Sri Mohd Radzi Abdul Rahman began by warmly wishing everyone on the current celebrated occasions such as New Year 2012, Chinese New Year, Maulidur Rasul and Thaipusam, which mirrors our 1Malaysia spirit.
Recollecting events of 2011, he mentioned that Wisma Putra faced challenges and also achievements. A total of 43 bilateral meetings were held, two new Missions were established in Melbourne and Ashgabat. Several negotiations and MoUs were completed and appointment of Malaysia in several international organisations such as UNESCO, WHO and Third Committee of UN. He also informed about assistance delivered to countries that faced natural disasters and domestic violence such as Japan, New Zealand, Egypt, Syria and Libya.
YBhg. Tan Sri Mohd Radzi Abdul Rahman expressed his appreciation for the hard work and perseverance shown throughout 2011 and reminded all to continuously enhance one's skills, knowledge and attitude to be able to act proactively and responsively towards the increasing demands of the stakeholders and clients.
In 2011, Wisma Putra renewed its 2009-2015 Strategic Plan according to SMART concept (Specific, Measurable, Attainable, Realistic and Time-bound), in line with the government's Transformation Plan. This would further contribute to the fulfillment of Wisma Putra's role in defending Malaysia's sovereignty at the international level.
The Assembly ended with the announcement of excellent staff of the month and performance by the Kompang team of Wisma Putra.