International Conference on Education in Tashkent, Republic of Uzbekistan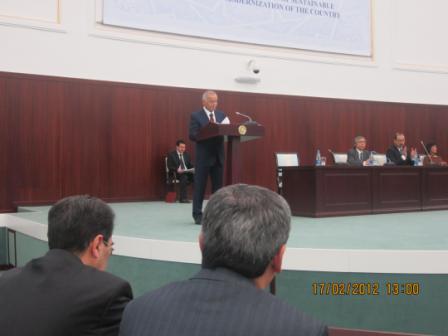 The Republic of Uzbekistan had extended an invitation to the Director General of IDFR to attend the International Conference on "Upbringing of Educated and Intellectually Advanced Generation as the Most Important Condition of Sustainable Development and Modernization of the Country" held in Tashkent on 16-17 February 2012. The international conference was attended by top academicians from around the world. Malaysia sent a 13 member delegation including the Director General of IDFR His Excellency Dato' Ku Jaafar Ku Shaari. The international conference was officially opened by His Excellency Mr Islam Abduganiyevich Karimov, the President of the Republic of Uzbekistan.
In his keynote speech, the President narrated about the importance of providing good quality education for the benefit of the younger generation in the future, especially in the republic itself. The republic could only have sustained development and modernity if the people have the knowledge and expertise gained by having the opportunity to education at all levels right from junior school to higher education level. The President said "Our children must be stronger, more educated, wiser and surely happier than we are".
Apart from the official opening, the participants were later involved in seminar and discussions in six smaller groups with guest panellists briefing on several working papers on providing and improving education to the young generation. The participants were also brought on a tour to visit several junior and high schools and institutions which were provided by the republic's Ministry of Education to see for themselves of the efforts taken by the government to ensure that the younger generation was given all the opportunity and the proper infrastructure to be advanced and modernized as aspired by the president himself. The international conference was successfully concluded on 17 February 2012.