Invitation to Lecture at the University of World Economy and Diplomacy (UWED) in Tashkent, Republic of Uzbekistan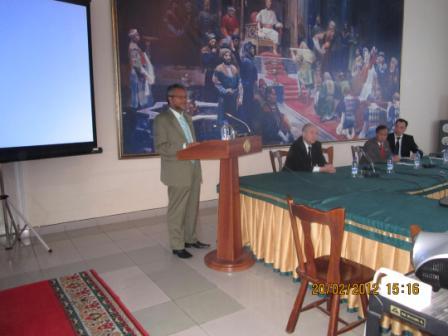 During the recent invitation to attend an International Conference on Education in Tashkent, Republic of Uzbekistan, the Director General of IDFR, His Excellency Dato' Ku Jaafar Ku Shaari was also invited to give a lecture for the Masters degree students at the prestigious University of World Economy and Diplomacy (UWED), Tashkent on 20 February 2012. The university, which was founded in 1992, was the premier university for subjects on international relations, international world of economy and diplomacy.
The Director General gave a lecture about "Malaysia's Foreign Policy" to about 65 very attentive students. The 70 minutes lecture encompassed the policies about the country's foreign policies as dictated by the various prime ministers until recently. The Director General was in his element when he gave his lecture eloquently and elaborately. Due to the overwhelming response from the students, the lecture had exceeded the one-hour time allocation including a 15 minutes question and answer session. For the record, the Director General was the first senior official of IDFR to give a lecture at UWED.
Prior to the lecture, the Director General paid a courtesy call to Professor Dr Hodjaer Bohodir Asadullevich, the Vice Rector of UWED. During the 45 minutes discussion, the Director General and the Vice Rector discussed on several aspects of possible collaboration on training and invitation to attend courses either in IDFR or UWED in the future. The meeting was very cordial and very beneficial for both parties.