SPKM Pre-Posting Orientation Course For Officers And Spouses Series 1/2012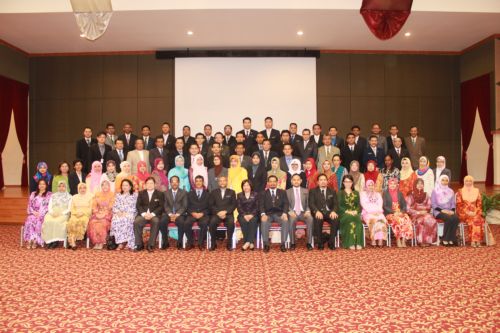 The SPKM (Sistem Pentadbiran Kerajaan Malaysia : Pre-Posting Orientation Course for Officers and Spouses 1/2012), which ran from 13 until 24 February 2012, has just been concluded. The first series of year 2012 was attended by 87 officers, inclusive of their spouses. The participating agencies were Royal Malaysian Police, MATRADE, Ministry of Defence, Ministry of Higher Education, Ministry of Education, Ministry of Youth and Sports, Tourism Malaysia, Wisma Putra, JAKIM, Royal Malaysian Custom and Ministry of Agriculture. It is motivating to note that course has seen an increase in the participation of the spouses by comparison to all the series which were conducted last year.
The first week of the course focused on the administrative matters at a mission and the second week was more on culture, etiquette and grooming. The speakers for the two-week course were invited from Wisma Putra, MATRADE, Suruhanjaya Pencegahan Rasuah, Suruhanjaya Pilihanraya, BERNAMA, Malaysian Handicraft Development Corporation, MIDA, Tourism Malaysia, Ministry of Higher Education and Istana Budaya. The participants were fortunate to have YBhg. Puan Sri Jazliza Jalaluddin, Wife of Wisma Putra's Secretary General, and the President of Wisma Putra's Ladies Association, to share her experience as a diplomat's wife during an interactive session of "The Role of Spouse". The participants were privileged as well when a session on "Media Skills" was conducted by BERNAMA Editor-In-Chief himself, Datuk Yong Soo Heong.
The course was concluded by the newly appointed Deputy Director General of IDFR, YBhg. Ambassador Aminahtun Hj. Karim.