Town Hall Session With The Chief Secretary To The Government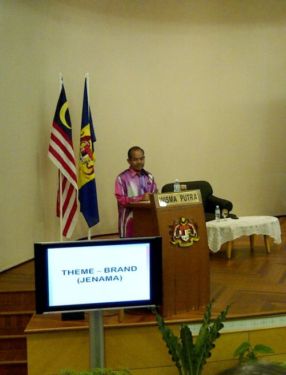 An inaugural Town Hall Session with YBhg. Tan Sri Mohd Sidek Haji Hassan, Chief Secretary to the Government of Malaysia was held on 1 March 2012 at the Auditorium of Wisma Putra. The session was attended by a total of 200 senior officers, Head of Department and Agencies, officers and staff. The Session was held as a window for Tan Sri to interact and share his thoughts about Branding of the Civil Service. The Session also provided an opportunity for staff of Wisma Putra to convey ideas and pose questions regarding the service.
Tan Sri encouraged all to live the legacy of Malaysia's Civil Service which brings a certain meaning to the public in term of its branding. The Central Bank of Malaysia carries a very good branding of the service. Tan Sri emphasised that the shift for improvement is what all the agencies should strive for.
The Session was followed by a Q&A session with questions ranging from the branding of Wisma Putra, specialisation in key identified areas, 360º evaluations, corporatisation, source management and also existence of social media. Tan Sri expressed his views on all the questions and encouraged everyone to upkeep the good branding of Wisma Putra and to enrich oneself with skills and knowledge to excel in the foreign affairs fora.