Farewell Moment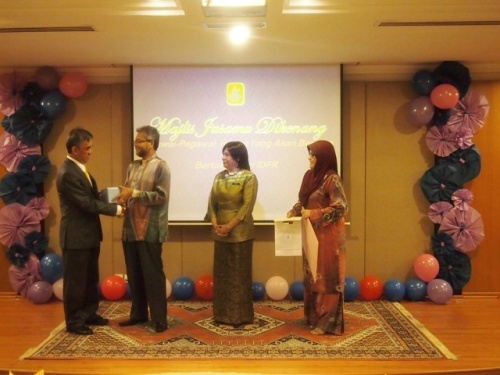 Bidding farewell is part and parcel of life be it in the world of work or in social settings. We at IDFR held a farewell function in honour of two of our beloved colleagues yesterday, 15 March 2012. They were none other than YBhg. Amb. Abdullah Faiz Zain, the Deputy Director General of IDFR and Puan Rozanah Ibrahim, the Director of the Language Division at IDFR. YBhg. Amb. Abdullah Faiz Zain has been newly appointed as Malaysia's Ambassador to Yemen while Puan Rozanah said goodbye to her teaching career and is looking forward to a retired life. A large crowd comprising majority of IDFR staff turned out at the IDFR VIP Dining Room to honour the two (2) most beloved figures in IDFR.
YBhg. Dato' Ku Jaafar Ku Shaari, Director General of IDFR delivered his remarks with recollections of charming and challenging moments shared with both of the celebrated figures. The Director General also acknowledged their hard work and dedication while contributing to the high reputation of IDFR. No words can aptly describe how heartrending it is for IDFR to finally bid adieu to the two powerful personas after facing all the ups and downs throughout the years.
YBhg. Amb. Abdullah Faiz Zain and Puan Rozanah Ibrahim in their speeches expressed their appreciation to all IDFR staff for the cooperation, support and good moments shared and their fervent hope for IDFR to be a renowned diplomatic training institute.
The event was concluded with presentation of memento to both celebrated figures. As much as IDFR hopes to maintain ties with YBhg. Amb. Abdullah Faiz Zain and Puan Rozanah Ibrahim as long as possible, IDFR is also looking forward to hear about their upcoming adventures in the new paths taken, YBhg. Amb. Abdullah Faiz Zain in the tough Yemen cocoon and Puan Rozanah Ibrahim in her domestic path.
It is never a "Goodbye" from IDFR for both of them but instead it is a "See you soon" and IDFR will always be a place they can call "My IDFR".