Public Lecture entitled "Cordoba Initiative: Its Mission in Healing U.S. – Muslim World Relations"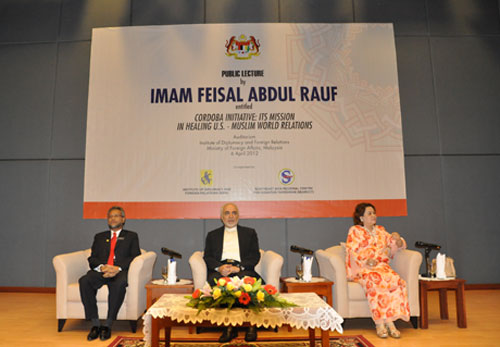 The Institute of Diplomacy and Foreign Relations (IDFR) and the Southeast Asia Regional Centre for Counter-Terrorism (SEARCCT) co-organised a public lecture by Imam Feisal Abdul Rauf, founder of Cordoba Initiative, entitled Cordoba Initiative: Its Mission in Healing U.S.–Muslim World Relations on 6 April 2012.
In his lecture, Imam Feisal Abdul Rauf said that when 9/11 occurred, the Americans showed enormous desire to understand and to fix the problem of what went wrong in America and how they can fix Muslims and the West relations.
He also highlighted the issue of Muslims versus the West from the scientific point of view. The common definition by many people was that Islam is a religion and west is the direction. According to Imam Feisal, it is not only a geographic thing, but it is also part geography, part political, part geo-political, part religious, part sociological and part perception. The sources of problems for the issue have been divided into buckets of problems which include political, religious/jurisprudential, socio identity and media/perception problems.
Participants who attended the public lecture included members of the diplomatic corps, academicians, lecturers and students from a number of local universities, officers from various government ministries and institutions, members of NGOs and the IDFR Master students.