Study Visit by the delegation from the National Resilience Institute of the Republic of Indonesia to IDFR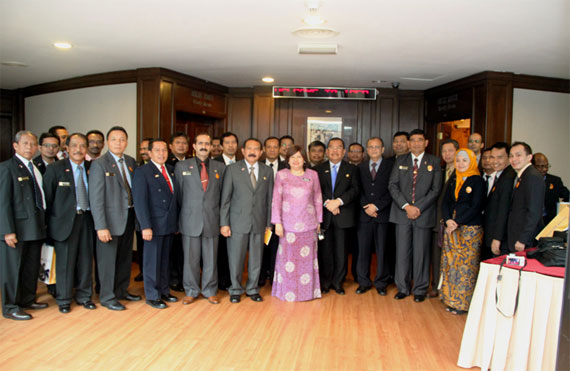 A delegation from the National Resilience Institute of the Republic of Indonesia (Lembaga Ketahanan Nasional Republik Indonesia) or known as Lemhanas RI made a study visit to the institute on Monday 29 October 2012. Lemhanas RI is responsible to organize training on cadre preparation and strengthening of the national level leaders to the republic's Pancasila and also to organize conceptual and strategic studies on various national, regional and international problems as required by the President.
There were 27 members in the delegation comprising of senior members from the military, police, university lecturers, central bank officials, student movement representatives and also from the Democrat Political party. There were also two foreign members from the Jordanian and Algerian Armed Forces who were attending the course at Lemhanas RI. The delegation was headed by Air Force Vice Marshall Mochammad Barkah who thanked the institute for graciously hosting the delegation although IDFR was informed of the change of date of the visit a few days before.
The delegation was warmly welcomed by Her Excellency Ambassador Aminahtun Hj A Karim, the Deputy Director General of IDFR and several senior officers. Subsequently the delegation was brought to the Treaty Room where they were given briefings about Malaysia's Foreign Policy and IDFR by Encik Mohammad Razdan Jamil from the Foreign Ministry and Encik Mohd Farid Mohd Ariff from IDFR respectively. The delegation took note about the direction and vision of the country's foreign policy and also about the various trainings conducted at IDFR.
After the briefing, the delegation was feted to a delicious afternoon tea and took the opportunity to exchange ideas and opinions about various issues of interest to both countries. The delegation left the institute after a two hour fruitful study visit and with some knowledge about Malaysia's foreign policy and about IDFR.
Reported by : Mejar Mohd Ridzuan Mohd Shariff
Regional and Security Studies Division