Orientation Course for Secretaries 16 - 27 April 2012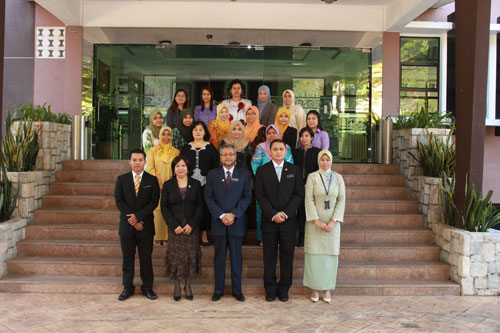 From 16 to 27 April 2012, the Institute of Diplomacy and Foreign Relations (IDFR) successfully conducted the Orientation Course for Secretaries which was newly introduced last September 2011. The numbers of participants that took part in this course were twelve (12) secretaries from various Wisma Putra divisions and four (4) from IDFR.
The objective of the course is to widen Wisma Putra's secretaries' professional knowledge and skills that are required for them to serve at Missions in various countries all over the world. It was also aimed to expose the participants to the different aspects of good office organization, improve their communication and inter-personal skills and to inculcate the importance of presenting a good image.
In line with the objectives, IDFR had tailored numerous modules that covered issues concerning Wisma Putra such as the Overview of Ministry's of Foreign Affairs Strategic Plan, the Importance of Your Role at Missions Abroad, Inspectorate Issues, Perks and Privileges, Administrative and Security Matters at Missions Abroad, Vienna Convention and Consular Relations, Preparation for Living and Working Abroad and a talk by the Vice President of PERWAKILAN.
The participants were also privileged to listen to modules that dealt with topics on skills in diplomacy such as, Reception and Fine Dining and Social Etiquette. English Language and communications were also highlighted during the course such as English for Diplomacy, English for Effective Communications, Presentation Skills, Written and Verbal Communications, Cross-Cultural Communications and Interpersonal Skills. Other modules that encompassed self development were also incorporated such as Motivation, Group Dynamics, Grooming, Malaysian Cultural Dances and One Malaysia Concept.
In general, the participants were pleased with the course and expressed their compliments concerning the knowledge, exposure and benefit that they had gained throughout. IDFR believes that the course objectives were achieved and would continue on its part to constantly review the modules so that it will be relevant to the needs, vision, mission and aspirations of the Ministry of Foreign Affairs Malaysia.