Panel Discussion on Economic Diplomacy : Treaty Room, Institute of Diplomacy & Foreign Relations (IDFR)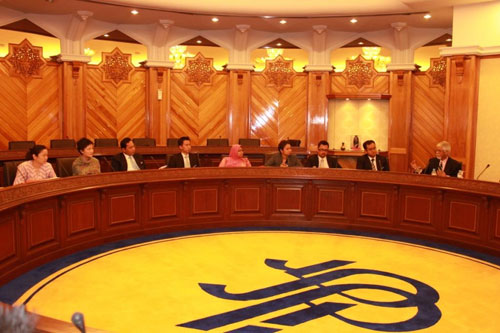 A panel discussion on "Economic Diplomacy" was recently held at the Institute of Diplomacy and Foreign Relations (IDFR) on 8 May 2012. Panellist from the academic sector, namely His Excellency Dato' Dr. Mohd Yusof Ahmad, Principal Fellow and Director of the Institute of ASEAN Studies and Global Affairs (INSPAG), UiTM and His Excellency Dato' M. Redzuan Kushairi, Deputy Chairman of the Foreign Policy Study Group (FPSG) were invited to present their views and comments. The participants who attended the session included officers from various government agencies who are currently undergoing their Diploma in Diplomacy course.
The discussion which was based on the presentation by H.E. Dato' M. Redzuan Kushairi was focused on the evolution of Economic Diplomacy as well as the roles and functions of Ministries/ Agencies in implementing Economic Diplomacy. The discussion also touched on the challenges to Economic Diplomacy faced by various state actors in today's era of rapid globalisation and information, communication and technology.
H.E. Dato' Dr. Mohd Yusof commented that the classical definition of Economic Diplomacy itself has evolved since the Cold War era right to the current day. Significant events and changes at the systemic level have shaped and transformed its definition. Today, Economic Diplomacy has risen to the top of international policy and is of top most priority to all States. States through their Goverment try to make their policies more efficient and respond to the increasing pressure for greater democratic and transparent governance all in the desire to achieve progress.
Rapid globalisation has effectively shifted economic power from Government towards the Private Sector and Non-State Actors such as influential International Organization (IO) and Non-Governmental Organizations (NGOs). As globalisation advances, more actors are involved in Economic Diplomacy. Their activities go beyond seeking to influence National Policies since they now combine to operate transnationally.
The session ended with a discussion on the roles and functions of the Ministry Foreign Ministry (MFA) today. H.E. Dato' Dr. Mohd Yusof commented that with the evolution, there is a need for modifications of traditional roles and responsibilities of the Ministry. MFA are no longer the sole guardian of diplomacy instead they are constructively engaging non-State actors through cooperation and consultations.