Roundtable Discussion Entitled "A Snapshot of Democracy in Asean" on 23 May 2012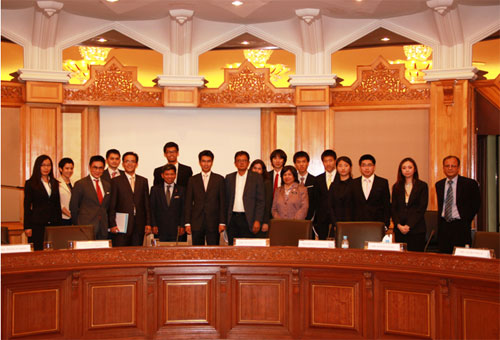 The Institute of Diplomacy and Foreign Relations (IDFR) and the CIMB ASEAN Research Institute (CARI jointly hosted a roundtable discussion entitled "A Snapshot of Democracy in ASEAN" at the Treaty Room in IDFR on 23 May 2012. Y.A.M. Tunku Zain Al' Abidin Ibni Tuanku Muhriz, Fellow of CARI was the guest speaker while Mr. John Pang, the Chief Executive Officer of CARI moderated the Q&A session.
In her welcoming remarks, YBhg. Ambassador Aminahtun Hj. Ab. Karim, Deputy Director General of IDFR said that discussions on democracy and related issues in the context of ASEAN are very relevant and timely considering the importance of this issue for the long term political and economic stability of the region.
In his address, Y.A.M. Tunku Zain Al' Abidin Ibni Tuanku Muhriz said that differences in the political system, language, culture, religion and level of economic development were among the main obstacles standing in the way of ASEAN achieving its vision of becoming a more democratic and people-oriented "ASEAN Community". Nationalism within ASEAN member countries is another factor impeding its progress towards greater economic and political integration. In this regard, he noted that even the European Union, despite having a common history, religion and culture faces challenges in maintaining its unity.
The distinguished speaker also spoke about the problem of political legitimacy in ASEAN which is currently government centric with little involvement by its people in the decision making and institutional building process. He noted that the issue of democracy has always taken a backseat in ASEAN meetings in relation to other issues. In this regard, he opined that civil society movements have an important role in promoting freedom and democracy in the ASEAN region.
The roundtable was attended by officers from the Ministry of Foreign Affairs of Malaysia, delegates from Harvard University and CARI, academicians, former diplomats and the Masters and Diploma in Diplomacy (DID) students at IDFR.