Attachment at Parliament and Constituency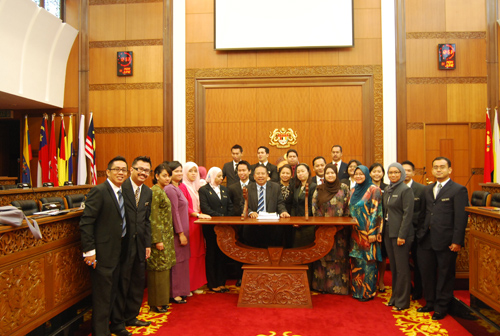 "It is not an easy job to take care of the people. Instead, it is so easy for us to criticise the work performed by the elected representatives." – Y.Bhg. Dato' Ku Jaafar Ku Shaari, Director General, Institute of Diplomacy and Foreign Relations (IDFR), 11 June 2012
For the first time, the participants of Diploma in Diplomacy (DID) 2012 were tasked to serve under the selected Members of Parliament (MP) of the Malaysia Barisan Nasional Backbenchers Council (BNBBC) from 11 to 16 June 2012. The attachment program is one of the new modules introduced by IDFR for the DID course.
The idea of having the attachment program started during discussions between the previous participants of DID 2011 and Y.B. Dato' Haji Ismail Haji Abd Muttalib, Secretary of BNBBC as well as several other BNBBC Committee Members. Through this module, the DID participants experienced working as a special officer to an MP for the first four days at Parliament, and the remaining two days at their constituencies.
Most of the DID participants are already familiar with the type of work at parliament as each Ministry / Agency has its own schedule that requires its officer on duty to provide the relevant answers for each question posted to their Minister. On the other hand, working as a special officer to an MP is much more challenging.
"An influential member of parliament has not only to pay much money to become such, and to give time and labour, he has also to sacrifice his mind too - at least all the characteristics part of it that which is original and most his own." – Walter Bagehot, British Economist.

Participants were exposed to the real situation of Malaysian politics as well as the formation and implementation of public policy and assisting MP with several tasks involving writing and communication. The participants also had an opportunity to get directly involved in several official programs at their respective constituencies. This kind of exposure enables participants to establish networking with the Members of Parliament.
The module was an excellent lesson to the participants on how to work with people on the ground, to understand the real situation and to write accurate report.