Orientation Course for Heads of Mission and Their Spouses 25 – 29 June 2012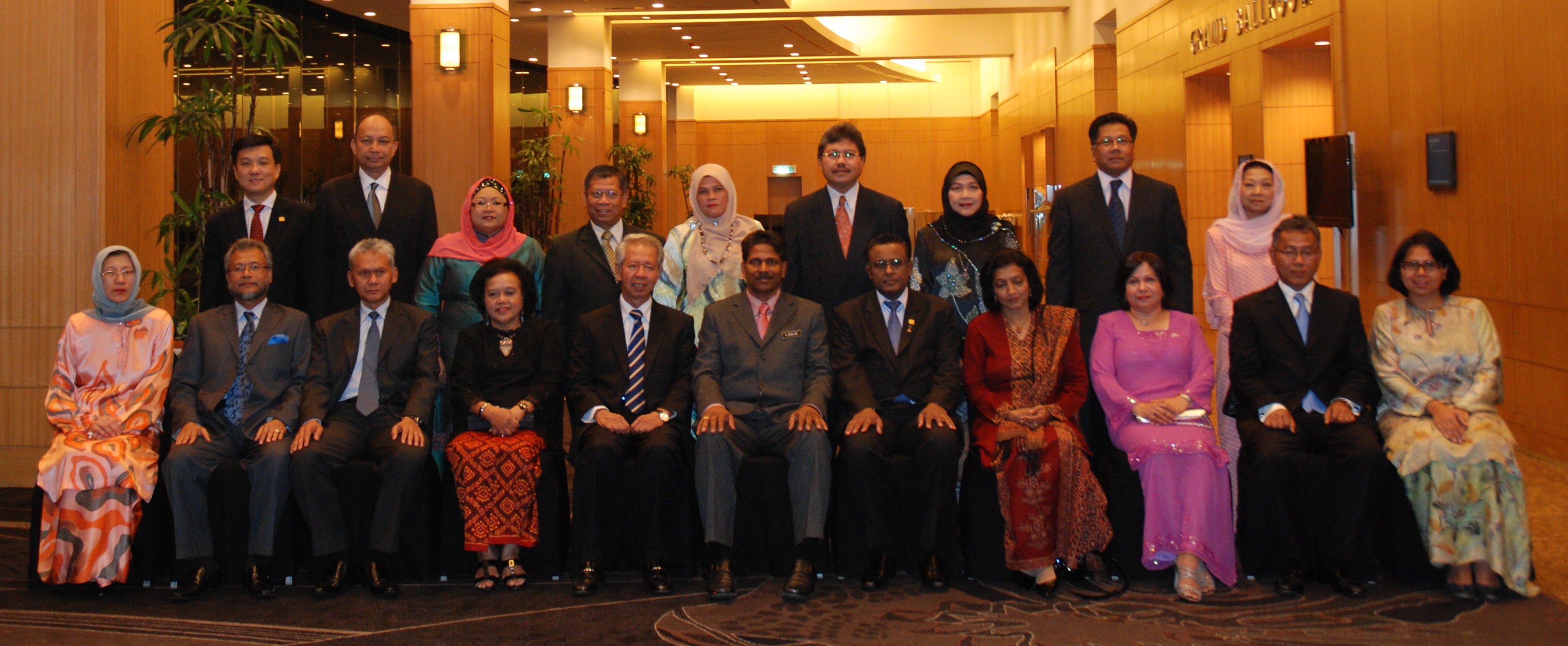 The Institute of Diplomacy and Foreign Relations (IDFR) has successfully conducted the first Orientation Course for Heads of Mission and Their Spouses from the 25 till 29 June 2012. A total number of 13 participants attended the course comprising of seven (7) Ambassadors and High Commissioners-designate accompanied by their spouses.
The participants were Ambassador Rosmidah Zahid, High Commissioner-designate to New Zealand, Ambassador Mohd Zulkephli Mohd Noor, Ambassador-designate to Turkmenistan and spouse Puan Anna Amalina Imam Baweh, Dato' Jamaluddin Sabeh, Ambassador-designate to the Republic of Poland and spouse Datin Norsiah A. Razak, Dato' Nik Mustafa Kamal Nik Ahmad, Ambassador-designate to Romania and spouse Datin Siti Fatimah Karim, Ambassador Dr. Hasrul Sani Mujtabar, High Commissioner-designate to the Islamic Republic of Pakistan and spouse Puan Habibah Mahmud, Dato' Ahmad Anwar Adnan, Ambassador-designate to the United Arab Emirates and spouse Datin Norzelah Mohd Zakaria and Puan Norlin Othman High Commissioner-designate to the People's Republic of Bangladesh and spouse Encik Zakaria Haji Idris.
The course, which was held for five (5) days, outlined the objectives to provide an overview of functions and responsibilities of Heads of Mission and their spouses, develop knowledge and understanding of current Malaysian and international issues and enhance and strengthen diplomatic skills of Heads of Mission and their spouses. In line with these objectives, IDFR had arranged numerous modules comprising of lectures and panel discussions with the Heads of Divisions from the Ministry of Foreign Affairs Malaysia, other agencies and government-link cooperations. Prominent and distinguish speakers were also invited to share their thoughts and insights on substances related to diplomacy and international relations. The course began with IDFR's Director General, Dato' Ku Jaafar Ku Shaari sharing his "Experience of a Diplomat" during the opening dinner talk.
Three (3) panel discussions conducted during the course. Firstly on "Challenges in the Middle East" by Dr. Chandra Muzaffar, President of the International Movement for a Just World (JUST) and Dato' Dr. Mohamed Ghazali Md. Noor, former Director of the Strategic Planning (IDB) Group. Secondly on "Traditional and New Media" by His Excellency Ong Keng Yong, High Commissioner of Singapore to Malaysia and Mr. Kamarul Bahrin Haron, Anchor of Sudut Pandang, Vantage Point and Analysis Astro Awani. Thirdly on "Economic Diplomacy" by Dato' M. Redzuan Kushairi, Deputy Chairman of Foreign Policy Study Group (FPSG) and Dr. Sufian Jusoh, Manager of World Trade Institute Consulting (WTI).
In addition, the participant were also privileged to listen to two (2) luncheon talks firstly on "Key Performance Indicator" by Mr. Mohd Tarid Sufian, Deputy Director General of the Coordination and Implementation Department, Ministry of Foreign Affairs Malaysia and secondly on "National and Global Economic Issues" by Professor Dr. Zubair Hasan, Professor of Islamic Economics and Governance for the International Center of Education in Islamic Finance (INCEIF).
IDFR had also arranged three (3) dinner talks firstly on the "Expectation on the Roles of Heads of Mission" by Tan Sri Mohd Radzi Abdul Rahman, Secretary General of the Ministry of Foreign Affairs Malaysia, secondly on the "Global Movement of Moderates (GMM) by Tan Sri Razali Ismail, Chairman of Global Movement of Moderates Foundation (GMMF) and finally on the "Collaboration between Public and Corporate Sector" with Tan Sri Abdul Halim Ali, Chairman of Multimedia Development Corporation (MDeC).
Apart from that, the participants had also listened to lectures on topics such as "ASEAN Community toward 2015", "Current Bilateral and Multilateral Issues", "1Malaysia, People First Performance Now as the Future Direction of Malaysia's Foreign Policy", "Transform Malaysia into a High-Income Nation by 2020", "Human Rights and Malaysia", "Etiquette and Royal Protocol" and "Dealing with Media a presentation on Defending National Interest".
Realising the importance for spouses to the heads of mission to have the right skills and ability needed to uphold Malaysia's good name and reputation, IDFR has also included several programmes specifically designed for the spouses. Among them were a cooking demonstration by a chef lecturer, a workshop on effective communication, presentation skills and public speaking and a lecture on "The Role of Spouse" by Puan Sri Jazliza Jalaluddin, president of PERWAKILAN.
The course was officially closed by YB Senator A. Kohilan Pillay, Deputy Minister of Foreign Affairs where the participants were presented with the certificates at Hilton Hotel Kuala Lumpur. In general, the participants were pleased with the course and further expressed their compliments comments concerning the knowledge, exposure and benefits that they had gained throughout. IDFR believes that the course objectives were achieved and would continue on its part to constantly review the modules for the Heads of Mission and their spouses so that it will be relevant to the needs, vision, mission and aspirations of the Ministry of Foreign Affairs Malaysia.