SPKM Pre-Posting Orientation Course for Officers and Spouses 3/2012 (2 – 13 July 2012)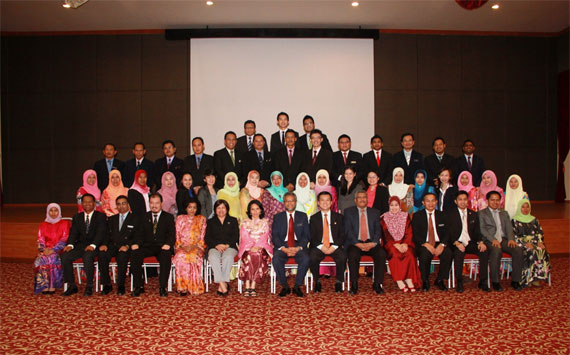 The third series of the Pre-Posting Orientation Course for Officers and Spouses under the Sistem Pentadbiran Kerajaan Malaysia di Luar Negara was concluded on Friday, 13 July 2012. The course was attended by forty five (45) participants which included officers and spouses from Immigration Department, MIDA, Ministry of Defense, Royal Custom, MATRADE, MITI, JPA, Majlis Agama Islam Selangor and Wisma Putra.
Throughout the duration of the course, the participants went through sessions which focused on matters related to administration, management, security, finance, protocol and auditing at missions. This was mainly to prepare the officers of their functions, duties and responsibilities when they are at their posts in the future. In addition, modules connected to culture, grooming, etiquette, language and official reception and entertaining were also included to polish the participants' socialization and diplomatic skills.
In this third series, the participants were very fortunate as they were part of the Royal Address by HRH Tuanku Raja Nazrin, which marked HRH's first official appearance as the Royal Patron of the Institute. The participants were also privileged to have an interactive session with YBhg. Puan Sri Jazliza Jalaludin, PERWAKILAN's President, on the roles, functions and responsibilities of spouses at missions.