The Diploma in Diplomacy (DiD) 2012: Attachment at Mission Programme - Embassy of Malaysia in Jakarta, Republic of Indonesia, 14 - 21 July 2012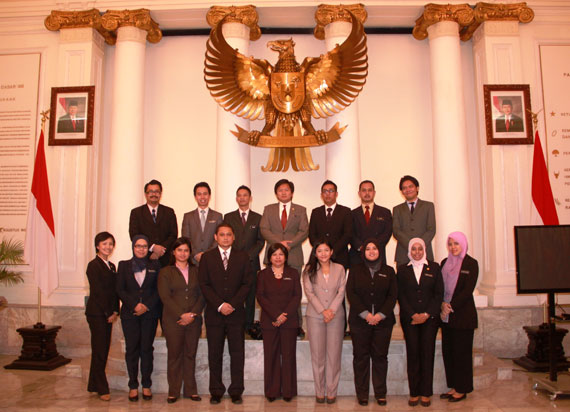 Twelve out of twenty-four participants from the Diploma in Diplomacy (DiD) 2012 recently completed a week-long attachment programme at the Embassy of Malaysia in Jakarta, Republic of Indonesia led by Ambassador Aminahtun Hj. A. Karim, Deputy Director General of the Institute of Diplomacy and Foreign Relations (IDFR). The remaining twelve also went through a similar attachment programme at the Embassy of Malaysia in Bangkok, Thailand led by YBhg. Dato' Ku Jaafar Ku Shaari, Director General of IDFR.
Jakarta was selected mainly because it is by far the largest Malaysian Mission abroad. It is also in Jakarta where the Permanent Mission of Malaysia to ASEAN and most attachés from the Malaysian Government agencies are represented. The objective of the attachment programme is to provide the participants with the knowledge, exposure and familiarize them with the operations and daily conduct of the embassy as well as the Permanent Mission of Malaysia to ASEAN.
Throughout the attachment programme, the embassy officials imparted their knowledge on administration and finance; consular matters; bilateral relations and politics; customs and immigration; tourism; education as well as ASEAN issues. At the end of their attachment, participants had a newfound admiration for the Malaysian officers serving abroad who continuously challenge themselves physically, intellectually, and emotionally to defend national interests while enhancing bilateral and regional relations.
Study visits and dialogue sessions were also conducted. Among them were the sessions at the ASEAN Secretariat, the Ministry of Foreign Affairs of the Republic of Indonesia (KEMLU) and IDFR's Indonesian counterpart, the Centre for Education and Training (PUSDIKLAT). In addition, the participants were also privileged to be invited and witnessed the launch of Strategic Review and the Strategic Review Forum entitled, "Peace and Reconciliation in Southeast Asia" where Indonesia's President Susilo Bambang Yudhoyono delivered the keynote address.
The attachment programme was both invaluable and crucial to better understand Indonesia – Malaysia's closest neighbour – that is playing an increasingly important role in the diplomatic arena of ASEAN and the Asia-Pacific. The participants also had the opportunity to explore and experience the sights, sound, and smell of the sprawling metropolis of Jakarta - a common language, shared ancestry and culture, complex yet dynamic neighbour.