Talk on Malaysia - US Bilateral Relations by H.E. Ambassador Datuk Paul W. Jones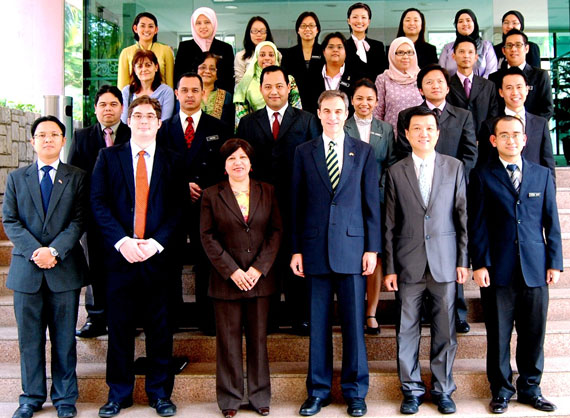 His Excellency Datuk Paul W. Jones, the Ambassador of the United States of America to Malaysia, was in IDFR on 17 August 2012 for a Talk on Malaysia-US Bilateral Relations together with the Participants of Diploma in Diplomacy 2012 (DiD 2012). Also present was HE Ambassador Aminahtun Hj. Abd Karim, Deputy Director-General, Mr. Lim Juay Jin, Director of Training together with officers of IDFR.
At the said Talk, HE Datuk Jones encouraged junior diplomats to explore and broaden their knowledge and go beyond the comfort of their desks. He advised that knowledge and information are important tools which diplomats need to possess in order to have better understanding of global issues rather than relying on speaking notes solely.
HE Datuk Jones spoke on Malaysia-US bilateral relations which are not limited to politics, security and trade but also social cooperation in fields as such student exchange programs and English education assistance. A Questions & Answers Session took place thereafter and HE Datuk Jones was very open, frank and informative in discussing issues pertaining US's involvement in the South China Sea issues and its presence in the Philippines, the special relationship with Israel which is a contrast to not doing enough for Palestine, its expectation on the Transpacific Partnership, the ineffective roles of the P5 and the future of expanding P5's membership as well as the upcoming US Presidential election amongst others.
Having described the Malaysia-US bilateral relations as warm, close and dynamic, the Talk ended with a thank you remark from Ambassador Aminahtun followed by presentation of memento to HE Datuk Paul Jones.
The Talk was certainly a breeze of fresh air for the DiD Participants in further understanding the Malaysia-US bilateral relations which are not only useful but also important for their future undertakings.