Strategic Negotiations for the Joint Ministerial Committee for Iskandar Malaysia (JMCIM-IRDA) 3 – 4 September 2012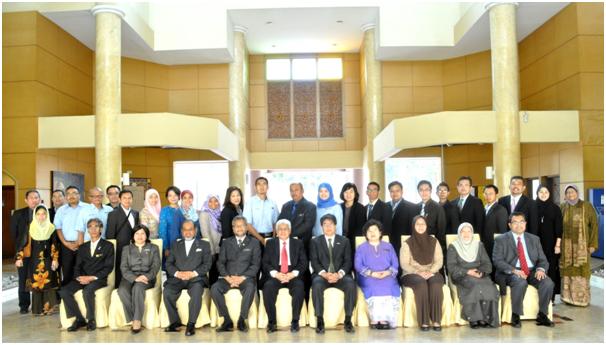 At the request of the Iskandar Regional Development Authority (IRDA), the Institute of Diplomacy and Foreign Relations (IDFR) has successfully organized the first Strategic Negotiations for the Joint Ministerial Committee for Iskandar Malaysia (JMCIM-IRDA) course from the 3 till 4 September 2012.
Participants of the said course were led by YBhg. Dato' Benjamin Haji Hasbie, Federal Commissioner of IRDA. Fifty-nine participants attended the course ranging from the immigration, transport, environment, tourism, iconic project and industrial cooperation working groups committee. The objective outlined for the course was to develop knowledge and understanding concerning issues pertaining to Malaysia and Singapore in the context of negotiations. The aim was to establish positive collaboration between Iskandar Malaysia and Singapore so as to increase the investments in Iskandar Malaysia through various sectors.
The two-day course saw the arrangement of several lectures by prominent and distinguished speakers. Among them were Professor Dr. K.S. Nathan, Director of the Institute of Malaysian and International Studies (IKMAS) who spoke about Malaysia-Singapore relations in the context of regionalism. Apart from that IDFR had also arrange lectures on topics such as international negotiations delivered by Puan Rahimah Yeop, Director of Academic Studies, Research and Publication Division of IDFR, Malaysia-Singapore future challenges delivered by Mr. Steven CM Wong, Senior Director of Economics Division of the Institute of Strategic and International Studies (ISIS) and economic relations delivered by Dr. Sufian Jusoh, Manager of the World Trade Institute Consulting Malaysia (WTI).
YBhg. Tan Sri Ahmad Fuzi Abdul Razak, Secretary General of the World Islamic Economic Forum Foundation (WIEF) who was also the former Secretary General of the Ministry of Foreign Affairs Malaysia, was also invited to share his experience with the participants. The final lecture of the course was delivered by His Excellency Datuk Md. Hussin Nayan, High Commissioner of Malaysia to Singapore. The High Commissioner shared some valuable thoughts and insights on substance related to Malaysia-Singapore bilateral relations.
In general, the participants were pleased with the course and further expressed their positive comments concerning the knowledge, exposure and benefits that they had gained throughout. IRDA has also expressed their interest and hope that IDFR will continue to organize such course in the future.