Orientation Course For Spouses Of Malaysian Diplomats September – December 2012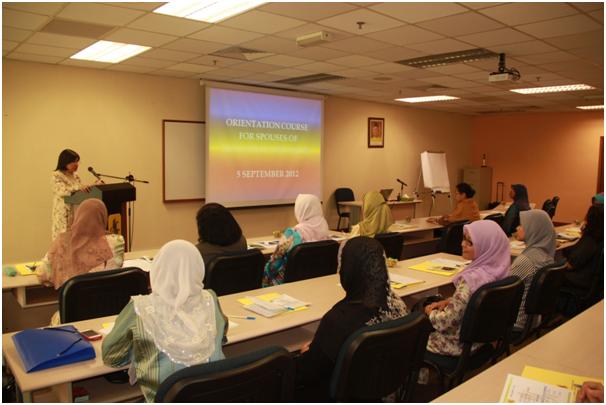 On 5 September 2012, the Institute of Diplomacy and Foreign Relations (IDFR) started the first series of the scheduled 7-part Orientation Course for Spouses of Malaysian Diplomats. The course was officiated by YBhg. Ambassador Aminahtun Hj. A Karim, Deputy Director General of IDFR and was attended by 17 participants led by the President of PERWAKILAN.
The course content was drawn up based on discussions with YBhg. Datin Sri Siti Rubiah Abdul Samad, wife of the Minister of Foreign Affairs, YBhg.Puan Sri Jazliza Jalaludin, President of PERWAKILAN and YBhg. Dato' Rohana Ramli, Deputy Secretary General of Service Management Wisma Putra, in addition to the outcome of a survey among PERWAKILAN members.
The main objective of the course is to prepare spouses on their roles and responsibilities when accompanying their spouses abroad. As such, the training programme includes organizational communication skills, time management, personal grooming and image as well as cooking demonstration and food presentation.
The first series focused on two topics; Perk and Privileges delivered by YBhg. Dato' Nor'Aini Abd Hamid, Chief of Inspectorate from the Ministry of Foreign Affairs and Royal Protocol delivered by Encik Omar Baba, a protocol consultant.