IDFR's Aidilfitri Celebration 6 September 2012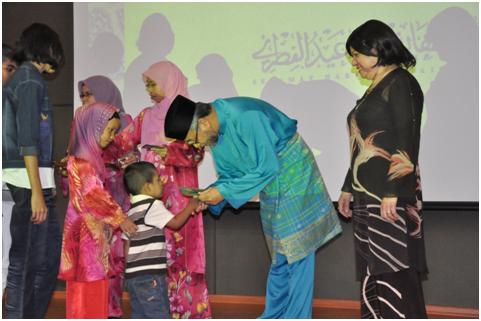 In the spirit of blissful and celebratory month of Syawal 1433H, Institute of Diplomacy and Foreign Relations (IDFR) delightedly shared the joy with thirty children from MyKasih Foundation in a joyous Aidilfitri celebration which was held on 6 September 2012. It was also attended by guests from Wisma Putra, diplomatic corps, collaborators, vendors and IDFR staff.
YBhg. Dato' Ku Jaafar Ku Shaari, Director General of IDFR expressed IDFR's warm welcome and pleasure of having the privilege to celebrate Aidilfitri with beloved children from MyKasih Foundation. MyKasih Foundation is a non-profit organisation that provides food aid, health awareness and financial literacy programmes, children's education, and skills training programmes to less fortunate Malaysians. He also acknowledged the diplomatic corps, collaborators and vendors for their continuous support to IDFR. He also wished for the harmonious and forgiving manner during Aidilfitri be observed all year round as it will lead to a conducive working environment.
The cheerful mood and highlight of the event was the presentation of 'duit raya' to all the children by YBhg. Dato' and YBhg. Ambassador Aminahtun Hj. A. Karim, Deputy Director General of IDFR.
International course participants who are currently attending courses at IDFR like Strategic Analysis for International Participants (MTCP), Master of Social Science in Strategy and Diplomacy as well as Diploma in Diplomacy 2012 were also delighted to join this joyous event.