Dinner for Participants, 18 September 2012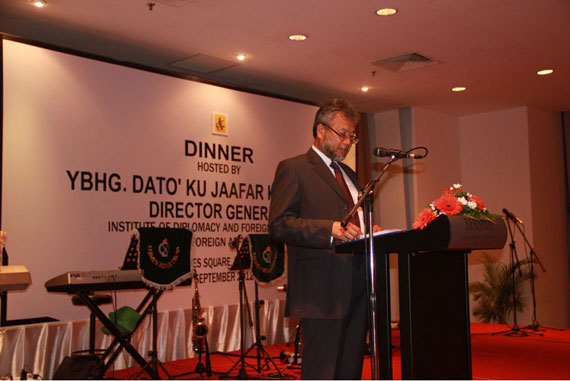 A dinner was hosted by YBhg. Dato' Ku Jaafar Ku Shaari, the Director General of IDFR on 18 September 2012 at the Manhattan V Function Room, Berjaya Times Square Hotel. The dinner was held to welcome all international participants who are currently attending diplomatic training courses organized by the Institute. The courses are Strategic Analysis for International Participants and Diplomatic Training Course for Libyan Diplomats, Mid-Career Course for Diplomats and Diploma in Diplomacy 2012. The dinner was also attended by thirteen representatives from the embassies namely Argentina, Azerbaijan, Cambodia, Iran, Lao People's Democratic Republic, Libya, Maldives, Oman, The Philippines, Sri Lanka, Sudan, Uruguay and Yemen.
YBhg. Dato' Ku Jaafar Ku Shaari highlighted in his welcoming remarks the importance of the virtues of networking among the participants as a means to enhance their cooperation and understanding of each other. Maintaining good relationship would definitely be useful for their careers especially in the diplomatic line. The speech was followed by a vote of thanks by the international participants' group representative.