Specialised Diplomatic Training Course for Libyan Diplomatic Officers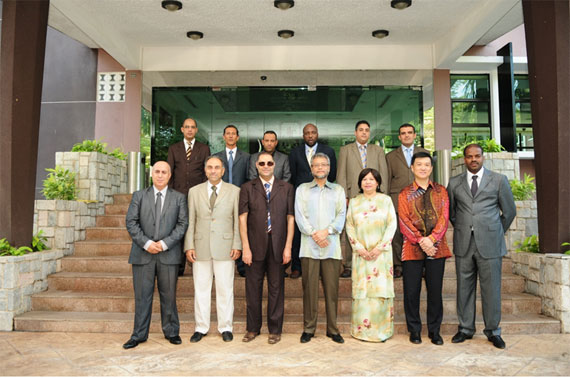 IDFR had successfully concluded a specialised Diplomatic Training Course for Libyan Officers which was held in its premise from 10 – 21 September 2012. The specialised training on diplomacy was the accumulation of a series of meetings and discussion between the Libyan government through its embassy here and the institute. The Libyan government was represented by the ambassador, His Excellency Dr Bubaker Al-Mansori, who was very keen and enthusiastic to have the Libyan diplomats being given the training at IDFR. According to the ambassador, the Libyan government looked up to Malaysia as its close partner in the region which could provide the necessary assistance in building up the new government in Libya.
There were 16 Libyan diplomatic officers who attended the two-week course which included subjects such as International Negotiation, Cross Cultural Communication, Overview of Public Diplomacy, Multilateral Diplomacy and others. There were also public lectures on the Global Movement of Moderates and Diplomacy in the 21st Century, courtesy of Tan Sri Razali Ismail and Dato' Ku Jaafar Ku Shaari, the Director General of IDFR respectively. Apart from classroom type lectures, the diplomats were also taken on a study visit to Melaka and Johor and also visit the Petronas Twin Towers and Matrade.
Overall, the diplomats unanimously expressed their satisfaction and gratitude for being given the opportunity to attend the course while at the same time, had the chance to visit Malaysia and to sample the various sights and sounds of a stable, progressive and multicultural society.