The Baky International Humanitarian Forum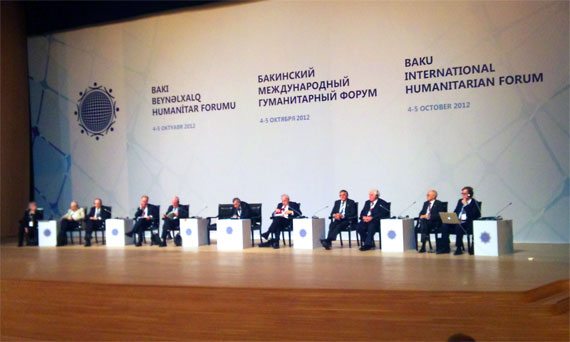 The Director General of the Institute of Diplomacy and Foreign Relations (IDFR), YBhg. Dato' Ku Jaafar Ku Shaari had recently attended the Baky International Humanitarian Forum in Baku, Azerbaijan having been extended a warm invitation by the Foreign Minister of the Republic of Azerbaijan H.E Elmar Mammadyarov.
The Baky International Humanitarian Forum is an annual event of renowned representatives of political scientific and cultural elite of the world community including famous statesmen, Nobel Prize winners in the various fields of science and leaders of influential international organisations. Its aim is to hold dialogues, discussions and exchange of views on a wide range of global issues in the interest of all humanity. The initiators of the Forum in 2010 were the President of the Republic of Azerbaijan H.E Ilham Aliyev and the President of Russian Federation H.E Vladimir Putin.
This year the Forum was held on 4-5 October 2012 and had stayed true to its initial notion and attended by 718 participants from numerous countries. The Director General of IDFR was also invited to become one of the moderators for the round table on "Multiculturalism in the life of society". Other moderators of the round table were Rachida Dati, the member of the European Parliament and the Mayor of the 7th district of Paris and Kamal Abdullah, the rector of Baku Slavic University.