IDFR Excellence Common User Library Award 2011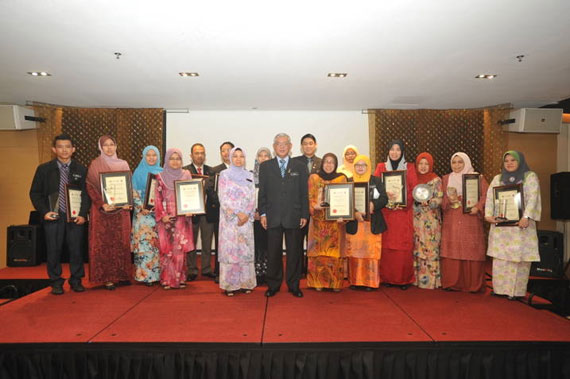 The Institute of Diplomacy and Foreign Relations (IDFR) Library had been successfully evaluated and certified as the recipient of the Excellence Common User Library Award 2011 by the National Library of Malaysia. The Library is aimed towards becoming knowledge centre of excellence, specifically in the field of IDFR's expertise which amongst others are international relations, diplomacy, strategic studies and other related fields.
An award giving ceremony was held in conjunction with the Common User Library Professional Management Meeting 2012 on 5 November 2012 at Hotel Horizon, Kota Kinabalu, Sabah. IDFR was represented by Ms. Nor Azura Mior Daud, Assistant Director of the IDFR's Library to receive the Plaque and Certificate of Appreciation by YBhg. Dato' Raslin Abu Bakar, Director General of the National Library of Malaysia.
Five common user libraries had been selected to receive the Award of Excellence Common User Library 2011 out of the 140 Common User Libraries led by the Management and Professional Librarians. The total number of common user libraries throughout Malaysia led by librarians either from the Management and Professional Group or Support Group totaled to 509 libraries. Evaluation of the award was based on the annual reading programme report which was submitted to the National Library of Malaysia at the end of each year. Among the criteria being evaluated were library collections, digital initiatives, continuous quality management, point of contact, innovation, competency of staff and infrastructure of the library.
The award is looked upon as a catalyst for IDFR's Library to continuously strive for excellence and greater success as a new source of knowledge and information to create a knowledgeable society and encourage reading habit.
IDFR's Library staff would like to express their sincere appreciation to the top management, officers and staff of the Institute who had always given full support and involvement either directly or indirectly which contributed to the success of all programmes and activities organised by the Library.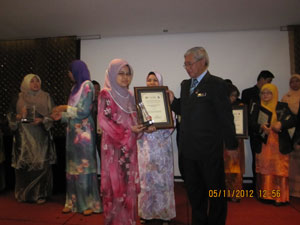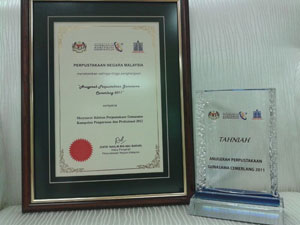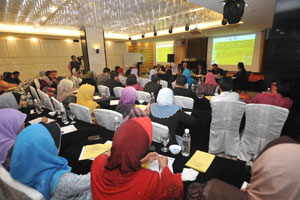 Reported by : Nor Azura Mior Daud
Library Section, Corporate and Management Services Division