Study Visit by Participants of 'Perdana Leader Programme' to IDFR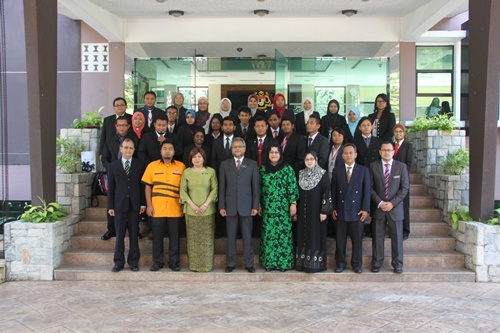 Twenty-nine participants from The 'Perdana Leader Programme' which is a collaborative project between the Ministry of Youth and Sports, UniRazak and several other agencies paid a study visit to the Institute of Diplomacy and Foreign Relations (IDFR) on 6 November 2012. The visit was an early exposure to the participants on the roles and functions of foreign relations and diplomacy which is an essential aspect to be comprehended by future leaders.
The visit started with welcoming remarks by YBhg. Ambassador Aminahtun Hj. A. Karim, Deputy Director General of IDFR. It was then followed by a briefing by Cik Romaiza Abd Rahman, Deputy Director, Training Division on IDFR's background, roles and functions of each division in IDFR, core training programmes as well as other aspects of IDFR.
To offer another dimension of understanding on the field of diplomacy, the briefing was followed by a question and answer session. The questions revolved around experiences and challenges faced by the officers throughout their service in handling diplomatic issues which are very sensitive and crucial in maintaining good relations between Malaysia and the world.
The participants were also brought on a tour to showcase the facilities and infrastructure for public lectures, seminars, roundtables and training programmes. It is IDFR's fervent hope that the visit succeeded in introducing basic understanding on the aspects of foreign relations and diplomacy as the front line of Malaysia's relations with the global community.
Reported by : Mohd Azlan Mohd Safwan
Corporate and Management Services Division