Seminar on Asean Comphrehensive Investment Agreement (ACIA)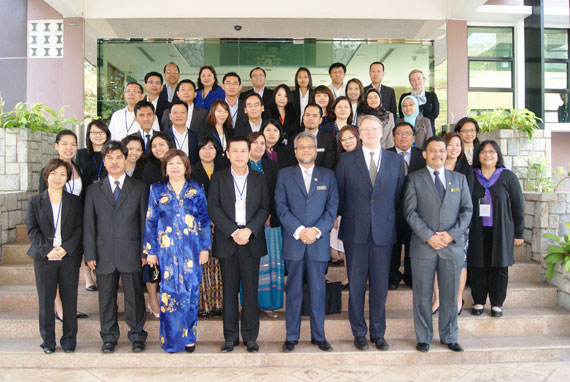 IDFR hosted a seminar on the ASEAN Comprehensive Investment Agreement (ACIA) with the theme "Transforming Investment in ASEAN through ACIA" at the Treaty Room, IDFR on 19-20 March 2013. The seminar was organized by the ASEAN Economic Department from the ASEAN Secretariat and managed by the World Trade Institute (WTI). It was supported by the ASEAN –Australia Development Cooperation Program Phase II (AADCP II) and MIDA.
This two-day seminar saw a gathering of 34 participants from all over the ASEAN countries namely Singapore, Lao PDR, Indonesia, Vietnam, Myanmar, Cambodia, Philippines, Thailand, Brunei and Malaysia. There were also representatives from ASEAN and AADCP II.
The Seminar was conducted by world experts in the field of investment policies and investment laws namely Dr Sufian Jusoh, Mr. Tay Yu Jin, Mr. Pierre Sauve and Ms. Anna Joubin-Bret. They had shared their wealth of knowledge and experience in the international investment policy and rule making; dispute prevention and dispute management as well as how to handle investment in the context of ASEAN.
The Seminar also covered various important topics such as the position of ACIA in the context of international investment law; the importance of liberalization of sectors for ASEAN and foreign investors; the promotion and facilitation of investment within ASEAN; the protection of investors and their investment; and the access to dispute settlement mechanisms.
On the second day, the participants had a break out session where they had a simulation exercise on the role of investors and the Investment Promotion Agencies. During the closing ceremony by the Director General of IDFR, Dato' Ku Jaafar Ku Shaari, expressed his gratitude to the eminent speakers and he also hoped that all the participants had a very fruitful and beneficial seminar.
Reported by : Rafizah Zahri
Academic Studies, Research and Publication Division