UUM's "Collaboration Award" for the Director General of IDFR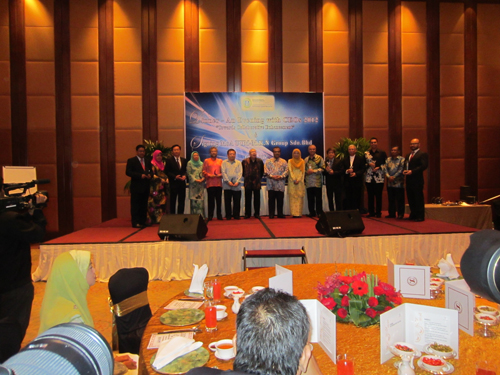 YBhg. Dato' Ku Jaafar Ku Shaari, the Director General of IDFR was among six CEOs and heads of government institutions who were honoured by University Utara Malaysia (UUM) at its "Dinner – An Evening with CEOs 2012" held at Hotel Sheraton Imperial, Kuala Lumpur on 16 October 2012.
In the words of YBhg. Dato' Dr. Mohamed Mustapha Ishak, the Vice Chancellor of UUM, the objective of the dinner function was to show appreciation to the companies and institutions that have supported its university-industry collaboration programme aimed at ensuring that UUM courses provide the necessary industry exposure and experience that are required by the university's students to easily find jobs upon graduation. IDFR was one of two government institutions, the other being BERNAMA, which was honoured during the function. Over the last few years, IDFR has been the favoured place for internship for gaining exposure to diplomacy and diplomatic training among UUM students of international relations.
At an impressive gathering of CEOs and heads of government institutions, the Director General of IDFR was presented with a "Collaboration Award" by the guest of honour, YBhg. Tan Sri Datuk Dr. Hj. Mustapha Kamal Hj. Abu Bakar, the Chairman of M.K.N. Group Sdn. Bhd. The latter also spoke of his company's experience in Corporate Social Responsibility (CSR) at this event.