The 4th International Conference on International Studies 2012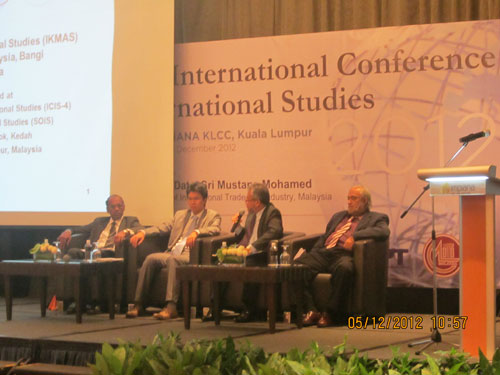 The 4th International Conference on International Studies 2012 is a biennial event organised by the School of International Studies, Universiti Utara Malaysia (UUM). This year the conference was held at the Impiana KLCC Hotel, Kuala Lumpur from 4 to 5 December. With the theme, Managing National and Regional Transformation and Its Global Challenges, the conference saw the attendance of about 100 speakers and participants both local and international.
The Director General of IDFR, YBhg. Dato' Ku Jaafar Ku Shaari was invited to moderate the forum entitled Emerging Powers: The Dynamics and Concerns in which the three speakers were Professor K.S Nathan from UKM, YAM Tunku Zain Al-Abidin Ibni Tuanku Muhriz from the Institute for Democracy and Economic Affairs (IDEAS), and Emeritus Professor Dr. Ranjit Singh Darshan Singh from UUM. The forum was proven fruitful and beneficial as it discussed the fundamental issue of the shift of main players of the world from three different perspectives as well as an interactive question and answer session.
Other highlights of the conference included a royal address by HRH Tuanku Raja Dr. Nazrin Shah, the Regent of the State of Perak as well as the official opening ceremony that was officiated by YB Dato' Sri Mustapa Mohamed, Minister of International Trade and Industry.
Reported by: Nadhirah Zanudin
Office of The Director General