Orientation Course For Heads of Mission and their Spouses, Series 2/2012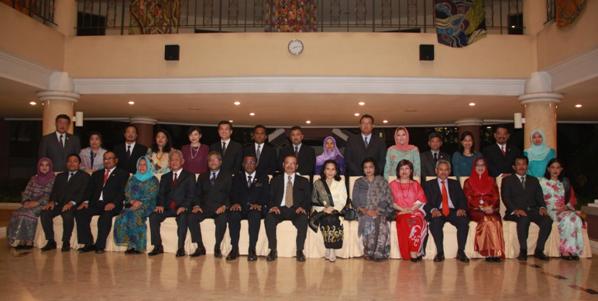 The Institute of Diplomacy and Foreign Relations (IDFR) has successfully conducted the second Orientation Course for Heads of Mission and Their Spouses from the 3 till 7 December 2012. A total number of 24 participants from the Ministry of Foreign Affairs Malaysia attended the course.
The objectives of the course is to provide an overview of functions and responsibilities of Heads of Mission and their spouses, develop knowledge and understanding of current domestic and international issues and enhance and strengthen their diplomatic skills. In fulfilling these objectives, IDFR had arranged interactive lectures and panel discussions with the Heads of Divisions from the Ministry of Foreign Affairs Malaysia, other agencies and government-link corporations.
There were three (3) panel discussions conducted during the course. Firstly on "Traditional and New Media" by Her Excellency Maria Isabel Rendon, Ambassador of the Argentine Republic to Malaysia, Encik Zukiman Mohd Zain, Deputy Chief-in-Editor of BERNAMA and Encik Kamarul Bharin Haron, a journalist from ASTRO Awani. Secondly on "Challenges in the Middle East" by Assoc. Professor Dr. Kamaruzzaman Yusoff, Institute of West Asian Studies, UKM and Professor Dr. Jamil Faooqui, Department of Sociology and Anthropology, IIUM. Thirdly on Economic Transformation Programme by YBhg. Dato' Ahmad Suhaili Idrus, Director of NKRA (UPT), NKEA (Greater KL), PEMANDU and Assoc. Professor Dr. Madeline Berma, Faculty of Economics and Management, UKM.
In addition, the participant were also privileged to listen to two (2) luncheon talks firstly on "Towards ASEAN Community 2015" by YM Raja Nurshirwan Zainal Abidin, Deputy Director General (ASEAN Economic Community), ASEAN-Malaysian National Secretariat and secondly on "Global/National Economic Issues" by YBhg. Professor Dato' Noor Azlan Ghazali, Deputy Vice Chancellor, UKM.
IDFR had also arranged two (2) dinner talks firstly on the "Expectation on the Roles of Heads of Mission" by YBhg. Tan Sri Mohd Radzi Abdul Rahman, Secretary General of the Ministry of Foreign Affairs Malaysia, secondly on the "Collaboration between Public and Corporate Sector" by YBhg. Tan Sri Dr. Sulaiman Mahbob, Chaiman of the Malaysian Institute of Economic Research.
Apart from that, the participants had also listened to lectures on topics such as "Global Movement of Moderates", "Talent Corp Malaysia", "Human Rights and Malaysia", "Government Transformation Programme", "Economic Diplomacy", "Royal Protocol" and "Dealing with Media".
Several programmes specifically designed for the spouses were also included during the course such as cooking demonstration and food presentation by a Culinary Chef lecturer from UiTM, a workshop on effective communication, presentation skills and public speaking by the Professional Development Unit, British Council Malaysia and a lecture on "The Role of Spouse" by Puan Sri Jazliza Jalaluddin, president of PERWAKILAN.
The course was officially closed by YB Senator A. Kohilan Pillay, Deputy Minister of Foreign Affairs where the participants were presented with the certificates at the Royale Culan Hotel Kuala Lumpur. IDFR believes that the course objectives were achieved and would continue on its part to constantly review the modules for the Heads of Mission and their spouses so that it will be relevant to the needs, vision, mission and aspirations of the Ministry of Foreign Affairs Malaysia.
Reported by : Mohd Farid Mohd Arif
Training Division