Forum On International Trade In The 21st Century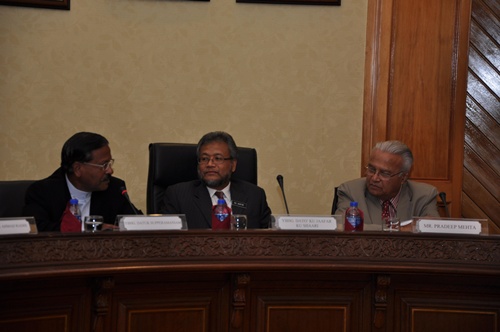 A forum entitled "International Trade in the 21ST Century" was held at the IDFR Treaty Room on 18 December 2012. It was jointly hosted by the International Islamic University Malaysia (IIUM), Consumer International (CI) and IDFR.
The forum focused on trade related issues in the context of the changing global trading environment of today. The panel of speakers at this forum consisted of Mr. Pradeep Mehtra, Secretary General of CUTS International, Dr. Nungsari Ahmad Radhi, Executive Director, Khazanah Research and Investment Strategy, Khazanah National Berhad and YBhg. Tan Sri Mustafa Mansur, Past President of the Federation of Malaysian Manufacturers. YBhg. Datuk Supperamaniam, former Permanent Representative of Malaysia to WTO and Adjunct Professor at the International Islamic University of Malaysia moderated the discussion.
In his welcoming address, YBhg. Dato' Ku Jaafar Ku Shaari, Director General of IDFR stressed the importance of training programmes in areas like international trade, investment and economic diplomacy for strengthening Malaysia's ability to compete at the regional and global levels.
On the whole, the panelists agreed that the international trading environment is becoming more challenging and that Malaysia needs to improve its industrial competitiveness and enhance its negotiation skills to remain competitive on the world stage. They also highlighted the need to strengthen Malaysia's trade and investment linkages in the ASEAN region.
Those who attended the public lecture included representatives of government agencies, the academia, the private sector, NGOs and foreign missions in Kuala Lumpur.
Reported by : Nafizal Haris Ismail
Regional and Security Studies Division