Visit of the Delegation from Devawongse Varopakarn Institute of Foreign Affairs, Thailand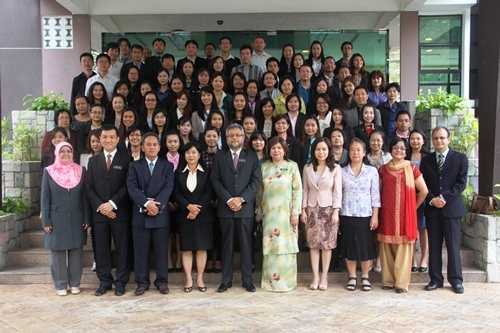 On 21 January 2013, IDFR had the privilege of receiving a delegation of sixty nine participants and three accompanying officials from the Devawongse Varopakarn Institute of Diplomacy and Foreign Affairs (DVIFA), Thailand. The visit was in reciprocity after a delegation from the Institute of Diplomacy and Foreign Relations (IDFR) to DVIFA July last year. The visit was led by YBhg. Dato' Ku Jaafar Ku Shaari, Director General of IDFR and comprised of course participants of the Diploma in Diplomacy (DiD) 2012.
YBhg. Dato' Ku Jaafar Ku Shaari in his welcoming remarks expressed IDFR's pleasure of the blossoming relationship and is looking forward for further collaboration and experience-sharing with DVIFA. It was followed by a briefing on IDFR's background, roles and functions of each division in IDFR, core training programmes as well as other aspects of IDFR. The participants were then taken on a tour of IDFR to showcase the facilities and infrastructure for public lectures, seminars, roundtables and training programmes which are continuously being improved to provide a conducive learning environment.
The Language Division then conducted two training sessions – 'Sounds of English' and 'Grammar in English' to the participants. YBhg. Ambassador Aminahtun Hj. A. Karim, Deputy Director General of IDFR in her closing remarks conveyed IDFR's fervent hope that the visit had succeeded in enhancing relationship between the two institutes and DVIFA is always warmly welcome to visit IDFR again.
Reported by : Joyce Abraham
Language Division