Invitation to Present Lectures at ISTEDOD Foundation of the President of the Republic of Uzbekistan in Tashkent, Republic of Uzbekistan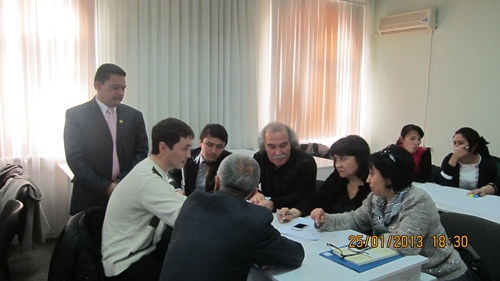 An invitation to present lectures at ISTEDOD, Foundation of the President of the Republic of Uzbekistan was extended to Major Mohd Ridzuan Mohd Shariff (retired) Senior Deputy Director, Regional and Security Studies Division, IDFR. The invitation was to present lectures on Case Study – Methodology and Techniques, Crisis Management, Strategic Analysis, Leadership and Management and Media Handling to a group of university and college lecturers organized by ISTEDOD in Tashkent from 23 – 30 January 2013.
During the four-day lecture, Major Mohd Ridzuan gave lectures from 9.00am until 4.30pm to the academic group which comprised of five PhD holders, 17 Masters Degree holders and the rest had degrees in various academic background such as Mathematics, Physics, Psychology, Chemistry, Public Relations and English Language. Out of the 45 people in the academic group, only 22 people could communicate in English. Thus, Major Mohd Ridzuan was ably assisted by an interpreter who translated most of the information in both Uzbek and Russian languages. All the participants had shown keen interest in the subjects delivered and they were very enthusiastic especially during the question and answer sessions. The participants were curious to know and learn how Case Study methodology was taught in Malaysia because according to the participants, it was different from the way the subject was taught in the Republic of Uzbekistan.
Apart from delivering lectures in the classroom, Major Mohd Ridzuan was also interviewed by the local TV station who was interested to know about the methodology used by Malaysians in presenting Case Study methods and how he was invited to deliver lectures at ISTEDOD. On his final day of lectures at ISTEDOD, the lecture presented by Major Mohd Ridzuan was hooked on video conferencing to other universities and colleges in Tashkent, Samarqand and Bukhara. The academic fraternity in Tashkent was really interested and enjoyed thoroughly the lectures presented by Major Mohd Ridzuan.
The invitation to present lectures at ISTEDOD was a recognition to Major Mohd Ridzuan personally and also generally to IDFR for its outreach program in providing extensive lectures and quality courses to officers and institutions around the world. Indeed, IDFR had achieved a lot of recognition and acknowledgement in diplomacy and international relations.
Reported by : Mohd Ridzuan Mohd Shariff
Regional and Security Studies Division