"Euro Zone Crisis: The Outlook for Europe in 2013 and Its Global Impact"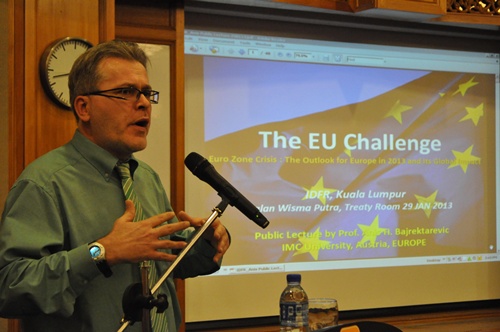 A roundtable discussion on "Euro Zone Crisis: The Outlook for Europe in 2013 and Its Global Impact" was held on 29 January 2013 at the Institute of Diplomacy and Foreign Relations. Prof. (FH) Dr. Anis Bajrektaravic who was a career diplomat and a well-known speaker among the academia gave a talk on the title.
Dr. Anis Bajrektaravic is not a new name to IDFR. He had visited IDFR in 2010 with a group of students undertaking a programme called "Business Focus ASEAN". He is currently Chairman of the International Law and Global Political Studies at the University Of Applied Sciences of Krems, Austria. Among the numerous positions he holds include that of Advisory Board member of the Oxford Academy of Total Intelligence, the New York based GHIR (Geopolitical, History & International Relations) Journal; and, the Canada-based Geopolitics of Energy Journal.
In his talk, Dr Anis mentioned on the history of European Union (EU), EU economy, the crisis that has been challenging, recent developments in the EU on the future of the Union and its likely impact on the ASEAN region and the rest of the world.
The euro zone crisis arose out of the difficulty or inability of some members of the European Union to repay or refinance their sovereign debt without the assistance of third parties. Among the countries affected by the crisis include Greece, Italy, Ireland, Portugal, Spain and Cyprus.
However, of late, there have been some optimism coming out of the European Union with encouraging signs that the union would be able to turn the corner in reducing some of the more severe political, economic and social problems precipitated by the crisis.
With the political support of the more developed economies like Germany and France and the undertaking by the European Community Bank (ECB), to ease the debt burden of the debtor nations, the outlook for the EU, on the whole, appears to be getting much better today.
Later, the roundtable discussion was ended with a question and answer session.
Reported by: Rafizah Zahri
Academic Studies, Research and Publication Division