Majlis Amanat Ketua Setiausaha Negara Tahun 2013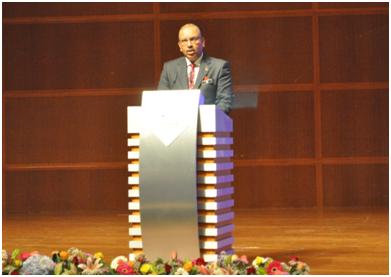 On 22 January 2013, representatives from the Institute Diplomacy and Foreign Relations (IDFR) attended Majlis Amanat 2013 by the Chief Secretary to the Government, YBhg. Dato' Sri Dr. Ali Hamsa. It was organised by the Prime Minister's Department at the Plenary Hall, Putrajaya International Convention Centre (PICC).This event was also attended by of the Secretary Generals, Heads of Departments, civil servants and the media.

The programme started with opening remarks by YBhg. Datuk Othman bin Haji Mahmood, Senior Deputy Secretary at the Prime Minister's Department and followed by the highlight of the event - the speech by YBhg. Dato' Sri Dr. Ali Hamsa. He began by conveying his pleasure in meeting all the participants and expressed his gratitude as well as appreciation for their support and commitment in bringing Malaysia's Public Service to a higher level. YBhg. Dato' Sri Dr. Ali Hamsa also stressed on the important role of Malaysian civil servants as the key pillar to the government administration. He also emphasised on the positive attitude that should be instilled in each public servant in order to encounter challenges and obstacles.

There were a few concepts explained by YBhg. Dato' Sri Dr. Ali Hamsa in his address. He underlined the importance of 'thinking outside the box' to find solutions for a problem. Apart from that, he encouraged all the Heads of Departments to practice 'amalan turun padang' (going down to the ground) as a way to bring public service closer to the people. He urged all civil servants to optimise the usage of social networking sites such as Facebook, Twitter and Instagram to share positive thoughts and opinions about the government. He also pointed out the importance of public servants to be proactive in order to facilitate service to the public. In addition, the 'Blue Ocean Strategies' and 'breaking-the-silos' were also mentioned by him. The Urban Transformation Centre (UTC) and 1Malaysia one-call-centre (1MOCC) were introduced based on these strategies.

The event concluded with the launching of two books entitled, Pengalaman Budaya Ketepatan dalam Gagasan 1 Malaysia: Transformasi ke Arah Pembentukan Negara Maju by Nik Azis Nik Pa and Buku Gagasan 1 Malaysia : Kreativiti dan Inovasi dalam Pembinaan Peradaban by Mohd Yusof Haji Othman.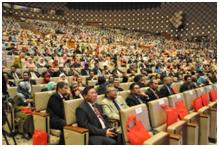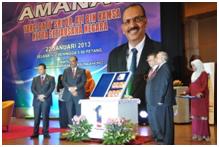 Reported by: Shereena Kamarulzaman
Intern-Academic Studies, Research and Publication Division.