Innovative Thinking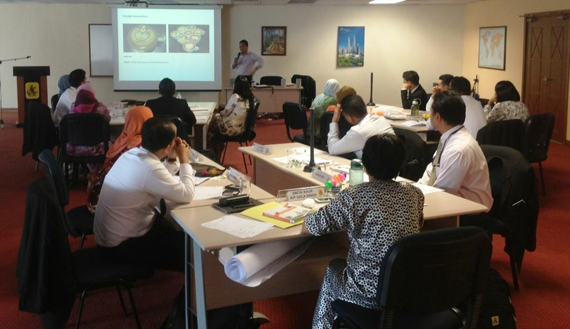 On 6 March 2013, twenty-one participants of the Diploma in Diplomacy (DiD) 1/2013 put on their innovative thinking caps with En. Azim Pawanchik of Alpha Catalyst Consulting (ACC) to discuss how to bring about innovation – defined as strategic change which adds value – in Malaysia.
The day-long session combined both theory and practical exercises to illustrate the process of innovation, common barriers and obstacles faced at each stage of the process and the ideal mindset needed to encourage innovative ideas.
One of the refreshing aspects of the session was the focus on practical examples and exercises ranging from juggling, aikido and delving into the workings of the coffee industry to drive home key points on creating innovation.
The session left an indelible impression on the DiD participants and it is hoped that the discussions held will spark future innovation in Wisma Putra and beyond.
Reported by : Shazana Mokhtar
Diploma in Diplomacy 1/2013