Fine Dining Practicum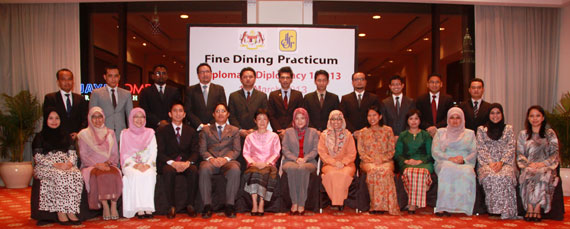 On 12 March 2013, 21 participants of the Diploma in Diplomacy (DiD) attended a practicum on fine dining, a session conducted by YBhg. Datin Paduka Melanie Leong, the former Director of Training in Institute of Diploma and Foreign Relations (IDFR). The session was held in Berjaya Time Square Hotel, Kuala Lumpur.
During the session, each participants was evaluated by YBhg. Datin Paduka and the DiD's Secretariat on their dinner attire, how they carry themselves during the dinner, their speech toast and etc.
The participants were exposed to the theoretical part of fine dining especially on the do's and don'ts during fine dining, the layout of the dining table and the various types of cutlery used. YBhg. Datin Paduka also emphasised on the importance of knowing the do's and don'ts in fine dining because as future diplomat, the participants are expected to play host and be invited to numerous official functions, where others will judge them on how they carry themselves. Through this exercise, it is expected that the participants would be gracious hosts as well as guests, and enhanced their interpersonal skills. The participants were also expected to project a favourable image and be comfortable in any dining situation.
The practicum session was a very good exposure to the participants.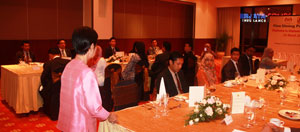 Reported by :Chenderawasih Abdul Malak
Diploma in Diplomacy 1/2013