Closing and Hand-Over Ceremony of The Photo Exhibit "Peace Corps in Malaysia: 50 Years of Enduring Friendship, 1962 – 2012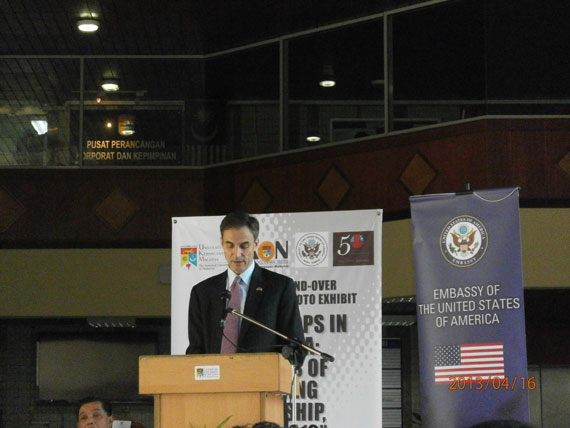 Malaysia's remarkable relationship with Peace Corps began in 1962 – 50 years ago. During the 21 years that the Peace Corps served here, it brought more than 4,000 American volunteers to live and work in Peninsular Malaysia, Sabah and Sarawak. American Peace Corps volunteers worked hand-in-hand with Malaysians to improve lives and promote livelihoods. Some volunteers taught maths, science and English to thousands of Malaysians.Others helped establish agricultural organisations and public works programmes or played critical roles in the fight against tuberculosis and improving public health.
In conjunction with the 50 years of friendship between the U.S. and Malaysia, U.S. Embassy organised a series of photo exhibitions with the theme, "Peace Corps in Malaysia: 50 years of enduring friendship, 1962-2012. The exhibition was first launched at the Lincoln Corner, Kuala Lumpur Library on April 12, 2012 and has travelled throughout Peninsular Malaysia, Sabah and Sarawak.
The photo exhibition saw the collection of photographs taken by the volunteers who had served in Malaysia.
The closing and hand-over ceremony of the photo exhibit was held in Universiti Kebangsaan Malaysia (UKM) in collaboration with the Institute of American Studies (KAMERA) and The Institute of Occidental Studies (IKON) on 16 April 2013.
The session began with a welcoming remarks by Associate Prof. Dr. Rashila Ramli, Director of IKON followed by an address by H.E. Datuk Paul W. Jones, Ambassador of the United States to Malaysia and YBhg. Prof. Datuk Noor Azlan Ghazali, Deputy Vice Chancellor of Academic and International Affairs, UKM.
This ceremony also witnessed the symbolic handing over a collection of photographs and certificate of appreciation to the National Museum. Deputy Director General of National Museum, Mr. Wan Jamaluddin Wan Yusof received the certificate from Ambassador Paul W. Jones on behalf of National Museum, which will make it a part of their permanent collection.
IDFR was represented by Mejar (R) Mohd Ridzuan Mohd Shariff, Senior Deputy Director of Regional and Security and Ms. Kamariah Jaafar, Deputy Director of Library.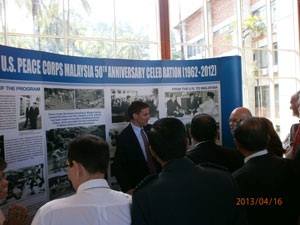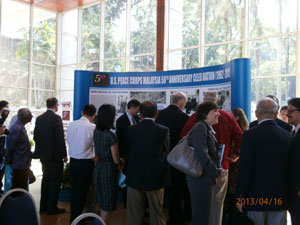 Reported by : Kamariah Jaafar
Library Section