Malaysia-Australia Young Diplomats Roundtable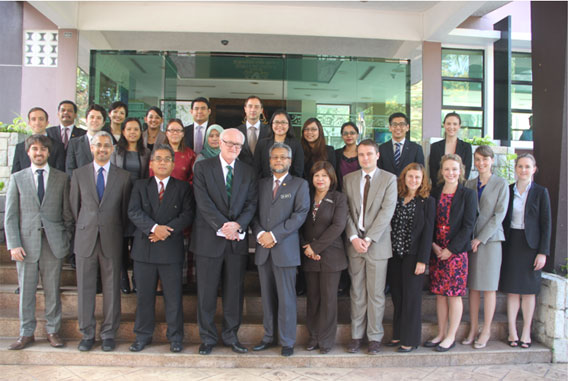 IDFR played host to the third Malaysia-Australia Young Diplomats Roundtable which was successfully held from 8 – 9 May 2013. The two-day event was attended by ten young diplomats from Australia and the same number of participants from the Foreign Ministry including two officers from the Malaysian International Trade and Industry (MITI). The young diplomats from Australia were flown in from the various Australian missions such as from Bangkok, Jakarta, Manila and others. Apart from that, the 21 young Foreign Ministry officers who were currently attending the Diploma in Diplomacy (DiD 2013) course were also given the opportunity to participate in the roundtable as observers.
The roundtable was officially opened by His Excellency Ambassador Dato' Ku Jaafar Ku Shaari, the Director General of IDFR. His Excellency Miles Kupa, the Australian High Commissioner to Malaysia was also at the roundtable to witness the event and also to show his support to the roundtable. In his opening speech, His Excellency Ambassador Dato' Ku Jaafar Ku Shaari encouraged the young diplomats to take the opportunity to gain some knowledge while at the same time strengthening their networking with diplomats from either countries. The roundtable, among others, included lectures and discussions on various subjects of interest to both Malaysia and Australia which included issues on foreign policies, bilateral relations, trade and economic policies and agreement and others.
The young diplomats who attended the roundtable were also invited to a dinner hosted by the Director General of IDFR at the Saloma Theatre Restaurant. The guests did not only enjoy dinner but were also treated to several singing and dancing performances by the young diplomats from both countries. The DiD course participants put up a very lively and captivating traditional dancing performance which captured the hearts of the guests. On the second day, all the young diplomats and senior officers from IDFR were treated to lunch by His Excellency Miles Kupa at his official residence. In the later part of the day, the Australian young diplomats were brought to a tour of Putrajaya to cap the two-day roundtable.
In a nutshell, the Malaysia-Australia Young Diplomats Roundtable was a very beneficial and meaningful session whereby all the participants had the chance to share their knowledge and experience which could in one way or another, improve the bilateral relations between Malaysia and Australia. All the young diplomats were encouraged with the response, feedback and extensive networking that they had which could go a long way in their career in the future. Overall, everybody was happy and satisfied with the way the event was conducted and believed that the experience had enriched their knowledge, perspective and opinion personally and officially. Everybody also looked forward to the next Malaysia-Australia Young Diplomats Roundtable which will be hosted by Australia in 2015.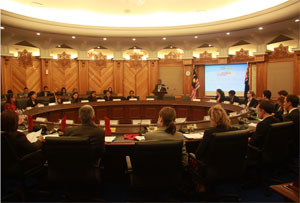 Reported by Mejar Mohd Ridzuan Mohd Shariff
Regional and Security Studies Division