Pre Posting Orientation Course For Officers And Spouses Under Sistem Pentadbiran Kerajaan Malaysia Di Luar Negara (SPKM)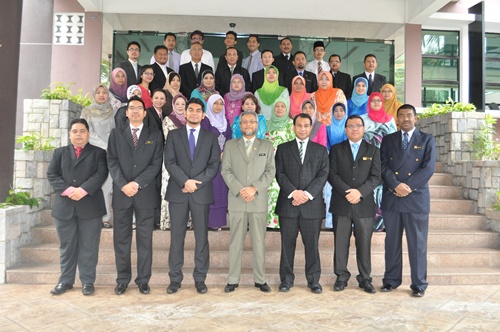 The Institute of Diplomacy and Foreign Relations (IDFR) had successfully organized the second series of the Pre Posting Orientation Course for Officers and Spouses under the Sistem Pentadbiran Kerajaan Malaysia di Luar Negara (SPKM) from 6 – 17 May 2013. The course was mandatory and specially designed for the officers (together with their spouses) who are going to serve at Malaysian Mission abroad for the first time.
The main objectives of the course are to increase knowledge and skills of the participants in diplomacy and international relations and to prepare them for their overseas assignment. In particular, the stress is on their role and responsibilities representing the country under the leadership of the Ambassador. It was attended by fifty seven (57) participants; twenty one (21) participants from Tourism Malaysia, ten (10) participants from MINDEF, three (3) participants from MIDA, one (1) participant from MATRADE, two (2) participants from Royal Malaysian Customs, three (3) participants from Immigration Department, two (2) participants from JAKIM, two (2) participants from Lembaga Tabung Haji, two (2) participants from Yayasan Pahang and eleven (11) participants from Wisma Putra.
The course was conducted fully in English where participants went through interactive lectures and group discussions. Among the modules were Administration and Security Matters at Mission, Financial Management at Mission, Protocol and Consular Matters at Mission, Legal Matters at Missions, Promoting Malaysia as an Preferred Investment Destination, Tourist Attractions, Language and Diplomacy, Grooming and Social Etiquette, Fine Dining Etiquette, Royalty and Palace Protocol and Role of Spouses at Mission.
Overall, the course has equipped the participants with important international relations knowledge and diplomatic skills in enhancing their professionalism while performing their duties abroad.
Reported by : Romaiza Abd Rahman
Training Division