Public Sector ICT Security Conference 2013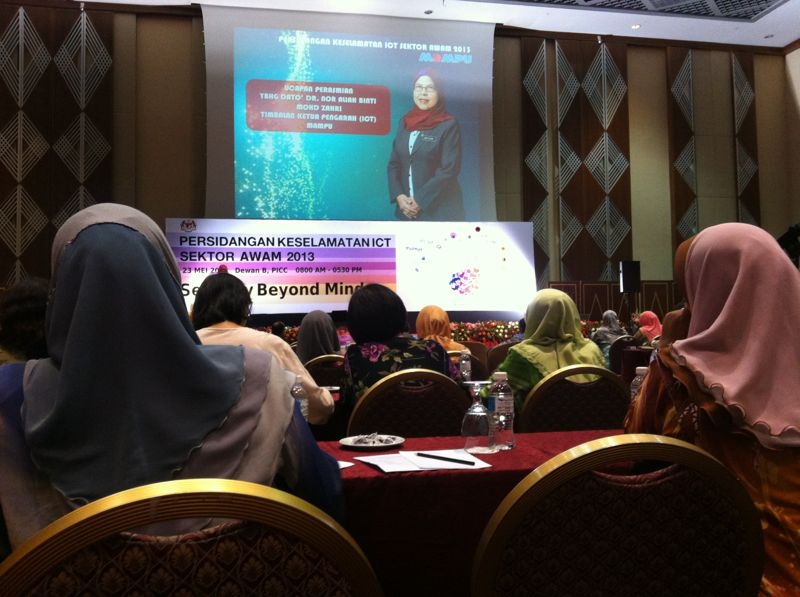 The Public Sector ICT Security Conference was successfully held on 23 May 2013 at the Putrajaya International Convention Centre (PICC). The conference was organized by the Administrative Modernisation and Management Planning Unit (MAMPU) with the theme "Security Beyond Minds" and officiated by YBhg. Dato' Dr. Nor Aliah Mohd Zahri, Deputy Director General (ICT), MAMPU cum Malaysia Government Chief Information Officer (CIO).
The participant from IDFR was represented by Puan Noor Asyirah Abd Rahman, Information Technology Officer from ICT Section. The conference saw the participation from ICT Officers from the government and private sectors. The conference also acted as a platform to discuss and share ideas and knowledge among them, especially about security issues on ICT public sector. Working papers were also presented by a few speakers on various topics such as: Data Leakage Protection, National ICT Security Coordination, Cybersecurity Safety Standards, The Age of Cyberwar and Mobile Security.
Participants were also invited to the Public Sector ICT Security Exhibition 2013 which showcased products and services from ICT security providers, such as EC Council and Ofisgate. Participants had ample opportunities to interact with ICT service and product providers at the ICT exhibition which was held at the same venue.
During the afternoon session, there was a Focus Group Discussion sessions which was divided into two (2) groups. Group 1 discussed the topic on ICTSO/CERT/PRISMA/MyGSOC/MyGRiC and Group 2 discussed the Public Sector Information Security Management System (ISMS). The Question and Answer Session between the panelists and the participants was conducted smoothly.
The seminar was officially closed by Encik Wan Mohd Rosdi bin Wan Dolah, Head of ICT Technical Consultant, Public Sector ICT Consultant Team.
Reported by: Noor Asyirah Abd Rahman
ICT Section, Corporate and Management Services Division