The Deputy Foreign Minister's First Visit to IDFR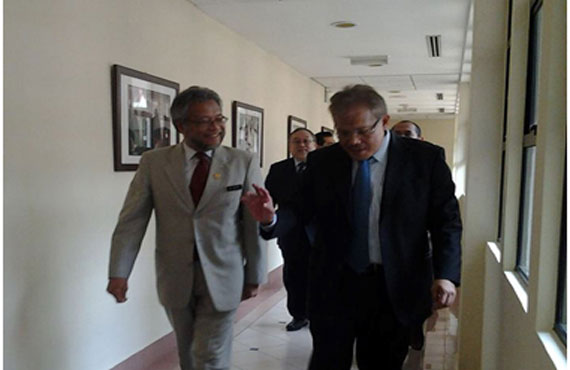 YB Dato' Hamzah Zainudin, the new Deputy Minister of Foreign Affairs, Malaysia made his first visit to IDFR yesterday. He was greeted by Dato' Ku Jaafar Ku Shaari, the General Director, along with the Director of each division, staff of the Institute and participants of the Diploma in Diplomacy programme. It was a delight to all as it was also their first time meeting the new Deputy Minister.
A briefing was also conducted on IDFR's activities, future events and programmes. YB Dato' Hamzah commended the Institute for its core values and goals to conduct training, research and publication in diplomacy and foreign relations, not only national but international fora. He also expressed his thoughts for the Institute to leverage further in reaching out to the world through the Malaysian Technical Corporation Programme (MTCP), and collaboration with Institutions and think-tanks in the field of diplomacy. Before he left, he was taken on a tour of the facilities of the Institute.
Upon reflection, it was an overwhelming experience to meet with the new Deputy Minister of Foreign Affairs. I had to take into account many aspects of preparation – attire, body language, articulation – not only for myself but noticing others as well, as it is the image of the Institute.
Reported by : Syahrul Nizzam Nordin
Intern from University of Tun Abdul Razak
Academic Studies, Research, and Publication Division