Workshop on ICT Strategic Plan (ISP), IDFR 2013 – 2015 (Series 2)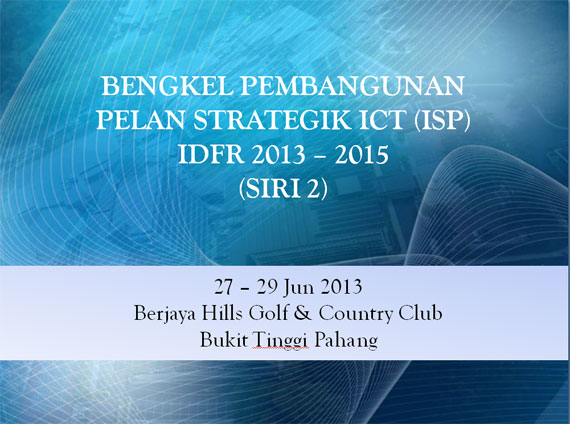 Information and Communication Technology (ICT) Section conducted a workshop on ICT Strategic Plan (ISP) IDFR, 2013-2015 (Series 2) on 27 until 29 June 2013, at Berjaya Hills Golf & Country Club, Bukit Tinggi, Pahang.
The workshop was opened by YBhg. Dato' Ku Jaafar ku Shaari, Director General of IDFR and it was a continuation of the first workshop which was held earlier on 7th and 8th May 2013. This three-day workshop was attended by 26 participants from all divisions and assisted by two (2) ISP Consultants from MAMPU, YBhg. Dato' Dr. Zahari Othman and Ms. Sukhaila Angsor who acted as facilitators.
The objectives of this workshop were:
i. To identify and list the ICT initiatives and programs;
ii. To identify and plan for ICT action plan; and
iii. To estimate the cost of ICT programs and priorities.
Through this workshop, the necessary inputs in the development of the ICT strategic plan including an action plan, the estimated cost of the program to be implemented and the priority of the program were successfully produced.
As a whole, the workshop received good cooperation and commitment from all the participants, especially for the group discussions and presentations. The ICT Strategic Plan Workshop (Series 3) is planned for August 2013.
Reported by : Mrs Badriyah Johari
Section ICT, Corporate and Management Services Division