Malaysia Libraries Convention 2013
Malaysia Libraries Convention 2013 was successfully held on 4 July 2013 at the Institut Tadbiran Awam Negara (INTAN), Bukit Kiara, Kuala Lumpur. Objectives of this convention were to increase awareness among the librarians regarding the library development in Malaysia, provided space for the librarians to share their knowledge on role that need to be played and raise the library's role so that library will stay relevant in line with the country's development.
The convention was co-organised by the National Library of Malaysia and Ministry of Tourism and Culture Malaysia with the theme 'Become Popular Knowledge, High Ranking Library'. It was officially launched by YBhg. Dato' Dr. Ismail Alias, Deputy Director-General of Public Service Malaysia (Operations).

In his speech, YBhg. Dato' Dr. Ismail Alias said 'Blue Ocean Strategy' or collaboration with various capable parties will generate more dynamic creativity to fulfill current expectations by the society that always want information quickly. At the same time, libraries in this country also need to be constantly updated in order to remain relevant in the society's eyes in line with global current phenomenon which demands comprehensive and structured transformation.
This one day convention was attended by 400 librarians. The programme comprised four forums and the presentation of a working paper about current developments and challenges in empowering library institutions in this country. At the closing ceremony, the programme was officially closed by YBhg. Dato' Raslin Abu Bakar, Director General of National Library of Malaysia. IDFR was represented by Miss Nor Azura Mior Daud, Assistant Director of IDFR Library.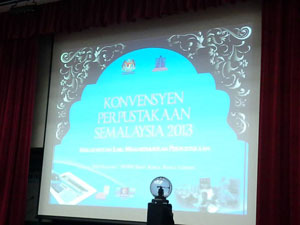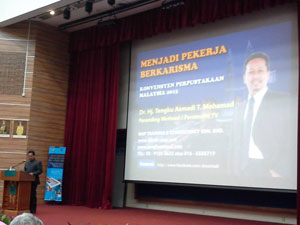 Reported by: Ms Nor Azura Mior Daud
Library Section, Corporate and Management Services Division