Forum on OIC Trade Integration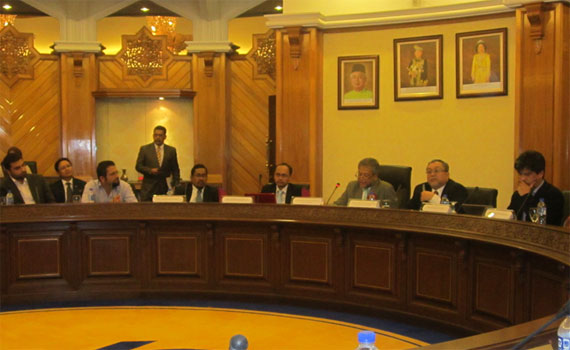 On 3 July 2013, a forum on OIC Trade Integration with the theme "The Prospect of an OIC Closer Investment and Trade Integration" was held at the Treaty Room, IDFR. It was jointly organised by IDFR and the World Trade Institute (WTI).
The first session entitled "International Trade in Islamic Countries: The past and the Present Trend" was presented by Dr Haniff Ahamat from the International Islamic University, Malaysia. The speaker touched on the history of the earlier Islamic International Law (Siyar) and its' practices during the early periods. He mentioned that during that period, only taxes that were mentioned in the Quran and hadith could be imposed by the state as it was written in the hadith: "One who wrongfully takes an extra tax (sahib maks) will not enter paradise". This siyar principles however was not adhered to by the later Islamic states as they started to impose higher tax including customs duties and it has now become an obligation and tradition to the states.
The second session was presented by Dr Sufian Jusoh from the World Trade Institute, Bern where he talked about Cross Border Investment and Trade in Services between OIC Member Countries.
The forum later was continued with a discussion entitled "The Prospects of Preferential Trade Agreement between OIC Member States" moderated by Dr Haniff Ahamat and Dato' Nazim Johan from the Persatuan Pengguna Islam Malaysia. It was actively participated by the audiences.
Dr. Anowar Zahid from the Universiti Kebangsaan Malaysia then talked on "Integration of Islamic Financial Markets of the OIC Countries". Dr Anowar explained that he had made a study to look into the best and possible ways how to integrate the Islamic financial markets among OIC countries.
Last but not least, His Excellency Dato' Ku Jaafar Ku Shaari, Director General of IDFR gave a talk entitled "The Way Forward, Overcoming Political Economy Issues" where he delivered the subject based on his own personal experience during his period with the OIC desk.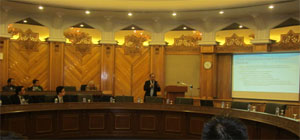 Reported by: Rafizah Zahri
Academic Studies, Research and Publication Division