Majlis Amanat Ketua Pengarah IDFR Sempena Ramadhan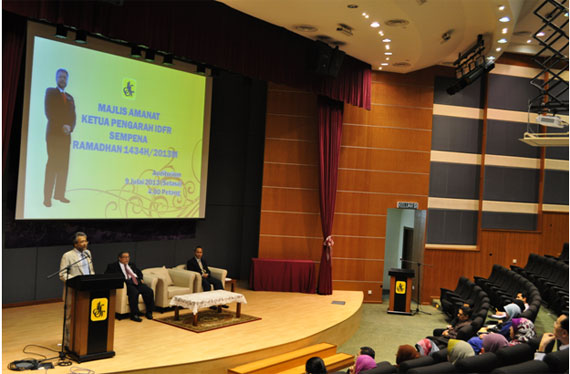 On Tuesday, 9 July, 2013, there was a Majlis Amanat Ketua Pengarah Institute of Diplomacy and Foreign Relations (IDFR) Sempena Ramadhan 1434H/2013M held at the Auditorium, IDFR
The programme commenced with words from the Chairman of the IDFR Welfare Club, Dr.Rosli Hj Hassan who welcomed and thanked everyone for coming to the programme. He also gave insights of upcoming events that will take place during Ramadhan.
The Director General of IDFR, Dato' Ku Jaafar Ku Shaari then was welcomed to address his message on Ramadhan.
Dato' Ku Jaafar began by reminding us to always appreciate Allah SWT and what He has given us, with a brief history of how the holy month of Ramadhan started. Dato' Ku Jaafar continued to address the main points of the holy month with reference to verses in the Al Quran such as Surah Al-Baqarah, Surah Ar-Rahman, and Surah Al-Araf. He also introduced us to the concept of Al-Mizan, which is broken down into two contexts: intangible (wants) and tangible (needs).
The programme was fulfilled with the recital of Doa Kemenangan by the Director General himself.
DOA KEMENANGAN
***************************************************************
SEGALA PUJI BAGI ALLAH PUJIAN BAGI HAKNYA. KEPUNYAANYA PUJIAN YANG BANYAK.
YA ALLAH, KURNIAKAN PADA KAMI KEMUDHAN UNTUK TAAT, MENJAUHI MAKSIAT, MELURUSKAN NIAT DAN MENGETAHUI KEMULIAAN.
MULIAKAN KAMI DENGAN HIDAYAH DAN ISTIQAMAH. LURUSKAN LIDAH KAMI DENGAN KEBENARAN DAN NIKMAT. PENUHI HATI KAMI DENGAN ILMU DAN MAKRIFAT. BERSIHKAN PERUT KAMI DARI HARAM DAN SYUBAHAT. TAHANI TANGAN KAMI DARI KEZALIMAN DAN PERAMPASAN. TUNDUKAN PANDANGAN KAMI DARI KEMAKSIATAN DAN PENGKHIANATAN. PALINGKAN PENDENGARAN KAMI DARI UCAPAN YANG SIA-SIA DAN UMPATAN.
KURNIAKAN KEPADA ULAMA KAMI KEZUHUDAN DAN NASIHAT.
PADA PARA PELAJAR KESUNGGUHAN DAN SEMANGAT.
PADA PARA PENDENGAR, KEPATUHAN DAN PERINGATAN.
PADA KAUM MUSLIMIN YANG SAKIT, KESEMBUHAN DAN KETENGANGAN.
PADA KAUM MUSLIMIN YANG MENINGGAL, KASIH SAYANG ALLAH DAN RAHMAT.
PADA ORANG-ORANG TUA KAMI KEHORMATAN DAN KETENTERAMAN.
PADA PARA PEMUDA, PENJELASAN DAN TAUBAT.
PADA WANITA, RASA MALU DAN KESUCIAN.
PADA ORANG-ORANG KAYA, RENDAH HATI DAN KEMURAHAN.
PADA ORANG-ORANG MISKIN, KESABARAN DAN KECUKUPAN.
PADA PARA PEJUANG, KEMENANGAN DAN PENAKLUKAN.
PADA PARA TAWANAN, KEBEBASAN DAN KETENGANGAN.
PADA PARA PEMIMPIN, KEADILAN DAN KASIH SAYANG.
PADA SELURUH RAKYAT, KEJUJURAN DAN KEBAIKAN AKHLAK.
BERKATILAH PARA JEMAAH HAJI DAN PARA PENZIARAH DALAM BEKAL DAN NAFKAH. SEMPURNAKAN HAJI DAN UMRAH MEREKA DENGAN KURNIA DAN RAHAMATMU.
GANJARKAN PAHALA YANG MELIMPAH PADA MEREKA YANG IKHLAS BERPUASA ATAS NAMAMU, BUKAN UNTUK LAPAR DAN DAHAGA.
SELAWAT ALLAH DAN SALAMNYA KE ATAS JUNJUNGAN KAMI, NABI MUHAMAD KELUARGANYA SERTA SAHABATNYA DAN KEPUJIAN ITU BAGI ALLAH TUHAN SEKALIAN ALAM.
AMIN YA RABBAL 'ALAMIN
***************************************************************
Reported by: Syahrul Nizzam Nordin
Intern from University of Tun Abdul Razak
Academic Studies, Research, and Publication Division