Effective Presentation Skills 2/2016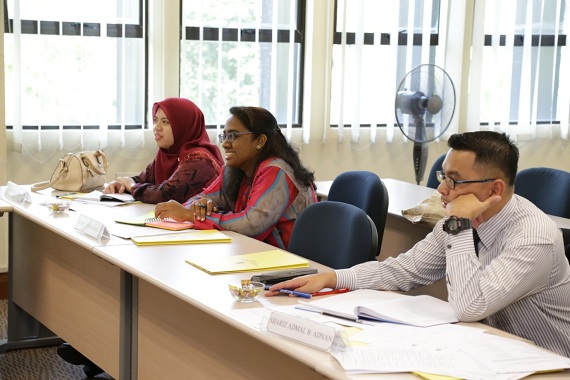 The Centre for Languages and Cultural Diplomacy (CLCD), Institute of Diplomacy and Foreign Relations (IDFR), conducted the second series of the Effective Presentation Skills Course from 26 – 29 September 2016. The course was attended by participants from various Ministries and government agencies, among them from the Ministry of Education, Ministry of Domestic Trade Co-operatives and Consumerism, and Federal Department of Town and Country Planning.
Public speaking and delivering presentations are a skill and an art that could have an impact on audiences; and taking into consideration that for most people, speaking in public is a daunting and challenging task, but unavoidable; this course aimed to help participants to overcome their fear and be better prepared to speak in the public. It is hoped that by going through the four-day course, the participants' public speaking skills are enhanced, that they became more aware of the role of verbal and non-verbal strategies in presentations and gained confidence to speak eloquently.
During the course, the participants went through various aspects and techniques in public speaking and presentation skills. One session touched on the differences between public speaking and presentation skills, giving the participants a more holistic view on them. The participants were also exposed to the use of a clear structure, good sense of timing, imaginative use of visual aids, and the ability to make people laugh and think. Most importantly, is the speaker's enthusiasm towards the subject matter.
This course also sought to help the participants, as presenters to have the ability to pace their speech and use their voice to create impact in their delivery through the use of stress, pausing, intonation, volume and silence. In addition, the participants were drawn towards how to identify and organise all key words and phrases needed in public speaking and presentations. Another aspect touched on was the strategies that could be adopted to conquer nervousness and speaking anxiety, the systematic ways to field different types of questions and deal effectively with subjects raised by the audience.
The participants gave favourable feedback to the course. They were of the view that the course materials were well planned and sequenced accordingly. The course contents were easy to understand and could be adapted to suit different types of public speaking and presentations, and many found the course beneficial and managed to enhance their public speaking and presentation skills.