DiD 2015: Panel Discussion 1 on Theories and Practices in Diplomacy and International Relations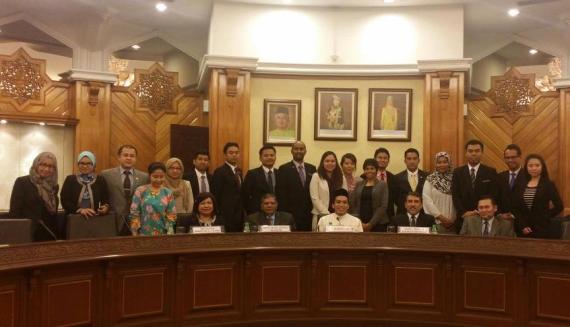 The Diploma in Diplomacy (DiD) 2015 participants organised its first Panel Discussion on Theories and Practices in Diplomacy and International Relations on 15 May 2015.
The invited panellists for the session were Dr. Wahabudeen Raees, Associate Professor from the Department of Political Science, Faculty of Islamic Revealed Knowledge and Human Sciences, International Islamic University and Ambassador Dato' Mohd Arshad M. Hussain, a career diplomat with over 36 years' experience at the Ministry of Foreign Affairs, Malaysia. The session was moderated by Mr. Johan Arief Jaafar, the Class President of DiD 2015.
In attendance was Ambassador Aminahtun Haji A. Karim, IDFR's Deputy Director General, Mr. Syed Bakri Syed Abd Rahman, IDFR's Director of Training and other officers from the Institute.
The discussion was focused on theories and practices in diplomacy and international relations from both the academic and practical viewpoint, which includes issues on challenges faced by present day diplomats.
During the session, Dr. Raees touched on the role of diplomats designed from Islamic history and tradition from a Muslim's viewpoint. He elaborated on the crucial distinction made in the Islamic theology between Dar Al-Harb (territory of the enemy) and Dar Al-Islam (territory of peace) and suggested for future diplomats to relook at the writings of Muslim scholars in the pursuit of achieving a better understanding of international relations.
Meanwhile, Dato' Arshad shared his experience as a career diplomat which included his involvement in the Sipadan kidnapping crisis in the year 2000 (a kidnapping of 21 foreign and Malaysian hostages by the Abu Sayyaf Group). Dato' Arshad revealed his involvement in the negotiations process with the notorious group in order to secure the hostages' release. He then stressed on the need to have "network diplomacy" that can add value to diplomats during their stint abroad.
The session achieved its aim in providing scholarly theories as well as practical approach in the contemporary diplomacy and international relations discipline.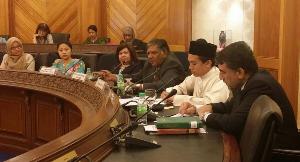 Reported by:
Johan Arief Jaafar
President
Diploma in Diplomacy (DiD) 1/2015