Lecture on Beyond the Horizon: Potential Political Breakthrough in the South China Sea by Professor Dr Vivian L Forbes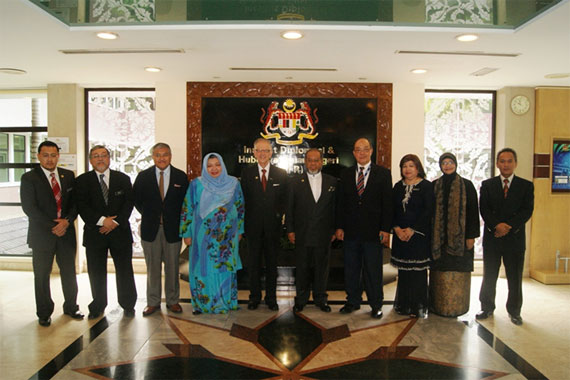 IDFR Lecture Series for 2014 took off with a lecture held in collaboration with the Maritime Institute of Malaysia (MIMA) on 23 January 2014 at the Institute's Treaty Room. The lecture on "Beyond the Horizon: Potential Political Breakthrough in the South China Sea", was delivered by the distinguished Professor Dr. Vivian L. Forbes, Adjunct Associate Professor at the School of Earth and Environment, University of Western Australia, and Senior Visiting Research Fellow of MIMA.
Professor Dr. Forbes is also a professional and practicing cartographer; a marine political geographer; a lecturer in spatial sciences and marine affairs; and a former Merchant Naval Officer. He is also a Guest Professor, China Institute for Boundary and Ocean Studies, Wuhan University, and Guest Professor, South China Sea Institute, Xiamen University, China.
Professor Forbes shared his vast knowledge and expertise on matters related to South China Sea which saw the overlapping territorial claims. He also emphasized on a number of diplomatic initiatives and cooperative activities that have been undertaken as part of the efforts to ensure the peace and stability in the SCS amidst the overlapping claims by the claimant countries namely China, Vietnam, the Philippines, Taiwan, Malaysia, and Brunei.
Based on his experiences through the studies conducted while being attached to the China Institute of Boundary and Ocean Studies (CIBOS) at Wuhan University and SCS Institute at Xiamen University, Professor Forbes also shared perspectives on the ASEAN's Declaration on the Code of Conduct on the SCS; the validity of China's claim; possible cooperation and joint submission between claimant states; and US position on the SCS issue.
The lecture also saw the presence of high level officials from various Government agencies and academic institutes that were dealing with the South China Sea issues such as Wisma Putra, National Security Council, Attorney General's Chambers, National Hydrographic Centre, Naval Chartography Department, Royal Malaysian Navy and Department of Survey and Mapping.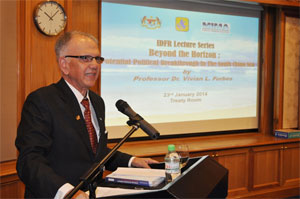 Reported by: Mrs. Rafizah Zahri
Regional and Security Studies Division