Desktop Mac Pro Training Intermediate Level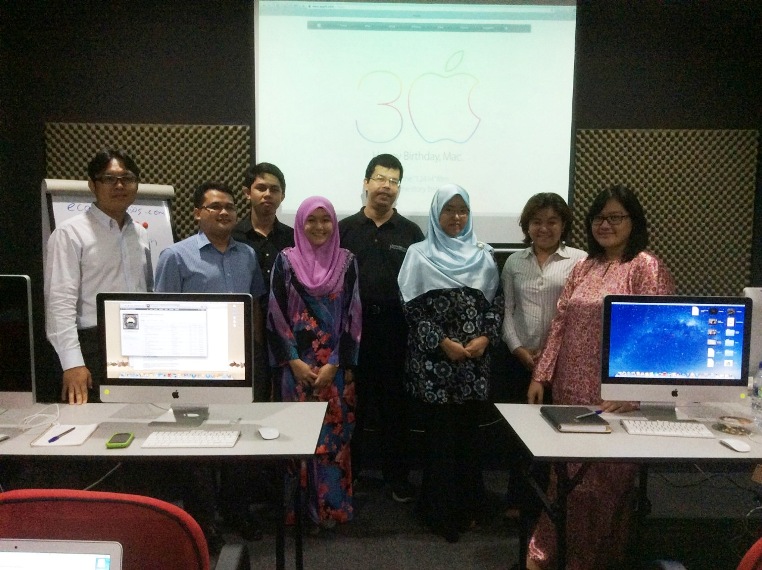 On 4th and 5th February 2014, eight (8) of the Institute staff have attended Desktop Mac Pro Training Intermediate Level which was held at the Futureworld Training Centre, Wangsa Walk Mall. This training aims to enhance the knowledge and skills of the participants on Mac Pro to a higher level. Training starts at 10.00am and ends at 5.30pm. The instructors specially brought in from Apple Company, Mr. Ahmad Shahar.
First day of training starts with an introduction to System Preferences, Finder Window and participants are asked to create a user account, changing profile picture, change the screensaver, change the layout of the icons and know the keyboard shortcuts. In the afternoon session, participants were exposed to the Internet, creating iCloud accounts and Wikispaces, hold a video conference via FaceTime among participants, download iBook Author and create rhythm through iTunes.
On the second day, participants learn about Photo Booth, recording audio and video, create photo albums via iPhoto and video using iMovie. In the afternoon session, participants were given training to create a Wikispaces account to upload any media files on it and create iBooks Author and exported in the form of digital textbooks.
Overall, participants follow the training so well and give full focus throughout the exercise. There are also some questions raised by the participants and explained clearly by the trainers. The participants were given a certificate of attendance and a Compact Disc containing handouts at the end of training.
Reported by: Mrs Noor Asyirah Abd Rahman
ICT Section, Corporate and Management Services Division