INTAN Public Policy Ministerial Forum Series 2014: "Corruption-Are You The Problem Or The Solution?"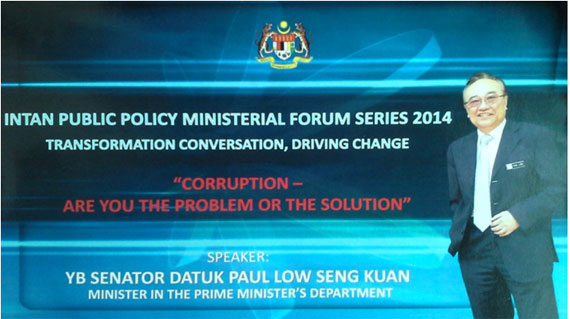 On 17 March 2014, National Institute of Public Administration (INTAN) organised its Public Policy Ministerial Forum Series titled, "Corruption-Are You The Problem Or The Solution?". The guest speaker was Senator Datuk Paul Low Seng Kuan, Minister in the Prime Minister's Department.
The programme commenced with welcoming remarks by Dato' Dr. Mazlan Yusoff, Director of INTAN followed by a keynote address by Senator Datuk Paul Low Seng Kuan.
In his keynote address as the minister with the portfolio of governance and integrity, Senator Datuk Paul Low told the audience that in today's scenario, demands from the people for greater transparency, accountability and the assurance of social justice is the order of the day. It is not merely about politics and having a free and fair elections, but building a democracy that is sustainable and brings about real economic growth that improves the standard of living and the quality of life for all its people.
In order to achieve this, the government of the day must embark on continuous reform to transform and strengthen its institutions and its administrative prowess to effectively respond to not only domestic issues but also internationally as well.
The minister reminded civil servants that without the right culture and attitudes that support and enhance integrity in the exercise of authority and power, curbing corruption will be limited. He emphasized that "our walk in integrity is a battle that is to be fought not in the outside but within us in our hearts and minds". He ended his address by asking everyone whether they are one of those who will stand for integrity and fight corruption and everyone including himself need to ask themselves whether they are the problem or the solution.
Officers from the Institute of Diplomacy and Foreign Relations (IDFR) and various ministeries and government agencies attended the forum.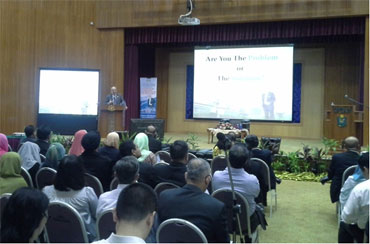 Reported by: Zanariah Abdul Malek
Academic Studies, Research and Publication Division